It's a rare developer who relies on patronage
Marco Arment's switch to donations to encourage development of his Overcast podcasting app led to lots of discussion. Is he alone in this pursuit?
Free software and the marketplace
The complaint from some developers and some portion of the Mac community—which readers like you know isn't at all opinionated or vociferous about anything—felt that Marco's success as an early Tumblr employee (sold to Yahoo), the creator of Instapaper (sold to Betaworks), the founder of The Magazine (sold to, uh, this reporter), and the developer of the successful Overcast version 1 allowed him to make a decision about forgoing revenue in favor of speculation that others cannot, because he has a reserve to rest on.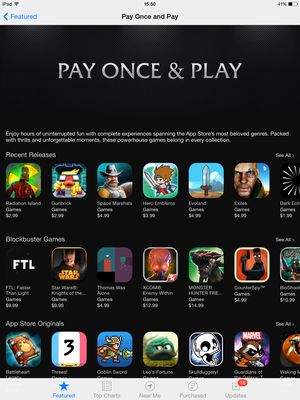 Earlier this year, Apple even promoted a group of gams that didn't have in-app purchases, so buyers could know they wouldn't be hit up for micropayments again and again.
Patronage, they note, isn't a winning strategy, because most developers—especially individuals and small firms—need to have some revenue to anticipate. Having software already deployed that did well enough allows developers to predict what upgrade fees might bring, and how to attract new users with new features. (Apple doesn't offer upgrade pricing, but the Complete Your Bundle pricing arrangement lets developers package an early and later version for a total price with the difference being an ersatz upgrade fee. If version 1 and 2 each cost $10, and the bundle of 1 and 2 costs $15, owners of version 1 can complete that bundle for an effective upgrade price of $5.)
However, all development is speculative, unless you raise money in advance through preorders, less-binding commitments, or crowdfunding. There's just no way to assure that someone will purchase the next product you make. Building products people like over years and forging relationships through customer support, conferences, blogs, and social media helps bridge that gap, as Arment, Beckert, Nanian, Smith, and others have done.
Whether called donationware, a tip jar, a no-benefits in-app purchase, or patronage, it seems like decades into OS X and seven years into third-party iOS apps it's hard to argue that this approach is a strategy that works for many. Yet with so much noise in the App Stores and so few options due to Apple's limitations, it's possible we'll see more established developers and companies try to figure out how to crack the nut that Arment shook loose from the tree.
Previous Page 1 2 3 4 5