It's a rare developer who relies on patronage
Marco Arment's switch to donations to encourage development of his Overcast podcasting app led to lots of discussion. Is he alone in this pursuit?
This leads to a situation that keeps the software alive, but not necessarily moving forward. "Since none of us are getting paid, we only work on things were motivated to work on, which isn't necessarily what's best for our users or for the project," says Beckert.
The year of programming dangerously
Henry Smith took a very different route to patronage, turning to Kickstarter to raise money to fund devoting his time to making games. Smith released Spaceteam in 2012, a multiplayer iOS game that he originally considered releasing entirely free. But at the last moment, after reviewing Apple's rules and believing they prevented a pure donation IAP, he added an in-game upgrade that was completely unnecessary, but "would only be interesting if you were already enjoying the game." He notes, "That was OK with me, because I wanted to give someone at least a token appreciation."
That proved a fortuitous move, as people did enjoy the game, and they upgraded sufficiently often to provide a revenue stream. That revenue, combined with game contests and other awards that came with money, let him leave his full-time work. But he wanted a more reliable revenue stream, and turned to people who liked his work so far.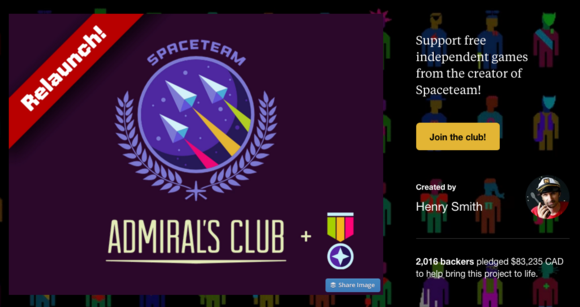 Smith was able to raise enough money via Kickstarter to develop free games for everyone.
With a Kickstarter crowdfunding campaign, Smith offered to devote his time to making games everyone could play free, with some bonuses and rewards that would allow extras for donors or even full custom versions of Spaceteam. The first pass failed to reach its goal, but it was close enough that he rejiggered it, and it funded on the next go-round. That was nearly 14 months ago.
"It's allowing me to be totally independent and have complete creative control, for better or worse," says Smith. What Smith says is that he wanted to find a way to let his audience him. "If I could do it for a year, then that would be awesome. Could I let them support me somehow?" Kickstarter was his answer. He had two million Spaceteam users, and only a tiny fraction have purchased the in-app upgrade, and a smaller number (just over 2,000) backed his second, successful campaign.
This far in, he's satisfied, although he says, "It didn't go exactly the way I'd hope, but none of it was super unexpected, and I think it was all a good use of my time."
With Arment's example extant, Smith says he'll likely do more games that have the equivalent of an in-app tip jar, add often one-time and recurring patronage options through Patreon and his website. "I'm still living off the proceeds from the Kickstarter campaign," he says, and has plans to keep on this route.
Previous Page 1 2 3 4 5 Next Page