Intel demotes PCs, giving datacenter chips first crack at new technologies
Intel's following the money into higher-margin businesses.
That's paid off in the "data center first" strategy. As part of Krzanich's restructuring, "each of the functional groups inside of Intel look at their business and their investments and their strategies, in the context of making the data center a priority," Bryant said. "And that includes being first to launch on a next-generation process technology node, and that's a big deal."
For what Bryant called the upcoming "10-nm+" node, as well as the 7-nm manufacturing node to follow, Intel's data center chips will be first on those lines. Historically, it simply wasn't possible for the Xeon to be first onto the new technology, as Intel couldn't ship enough chips to justify the cost. The massive size of Xeon chips also meant a higher risk, as the inevitable manufacturing defects of a new process could ruin the finished product. Now, with a modular packaging structure in place, Intel can afford to shift to its data center-first strategy, she said.
Cannonlake will offer the usual improvements
That doesn't mean the PC is dead, but it isn't commanding the lion's share of attention at Intel anymore.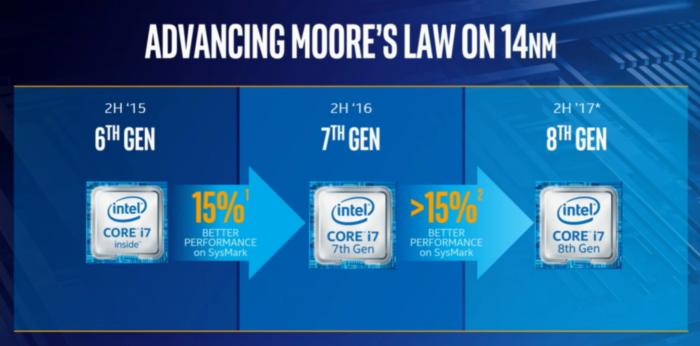 Intel's roadmap toward Cannonlake looks like business as usual.
Renduchintala opened his presentation by essentially bragging that Intel had raised its operating profits by 30 percent as the PC market declined. Part of that, he said, was thanks to fat-margin Core i7 chips, which hit an all-time high in percentage of Intel's total CPU sales. Renduchintala said he expected that trend to continue. Intel has previously identified virtual reality as a key driver for the industry, and in one VRMark benchmark, the company found that VR performance improved by 36 percent when moving from a Core i3 to a Core i7.
Renduchintala didn't offer much in the way of a PC roadmap, but he did confirm that Intel's upcoming Cannonlake chips will deliver a performance improvement of more than 15 percent compared to its Kaby Lake chips, based on the Sysmark benchmark.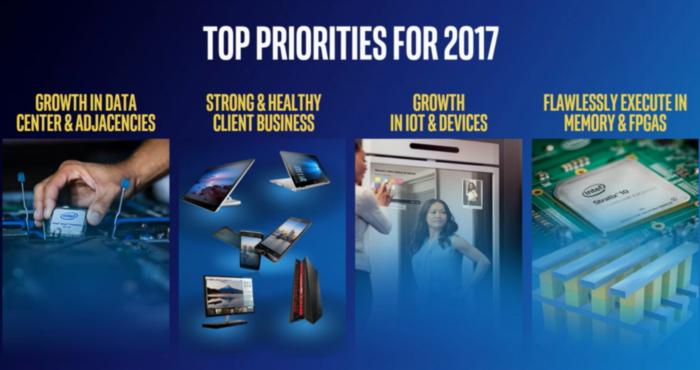 Intel's 2017 priorities look beyond the PC, too.
Unfortunately, Intel also failed to provide a roadmap for its Optane product, which Intel has said could revolutionize the PC by serving as a lightning-quick source of local storage. Rob Crooke, Intel's memory chief, said Intel was already working on its first three generations of its Optane technology, and it's apparently shipping to data center customers. But there was no word on pricing for PC customers.
Kraznich, though, spoke glowingly of Optane's desktop future. "Every single gamer is going to want 3D Xpoint," the technology underlying Optane, he said. "Every single gamer."