Intel demotes PCs, giving datacenter chips first crack at new technologies
Intel's following the money into higher-margin businesses.
With Intel's forecasts projecting the PC could be the smallest moneymaker five years from now, the company has gone "data center first"—giving Intel's server business first crack at new manufacturing technologies.
It's another sign of massive change within Intel, as the traditional PC business is shoved to the side. In a slide presented during Intel's investor day on Thursday, the company showed off how the total available market (TAM) for its PC CPU business was just $30 billion or so, less than half that of the data center.
The TAM, as its known, projects the maximum available revenue Intel could pull in if it owned the entire market—which won't happen. It's an excellent guide to which segments Intel is prioritizing, however: the data center, non-volatile memory like flash and its new Optane, plus mobile communications and various embedded segments.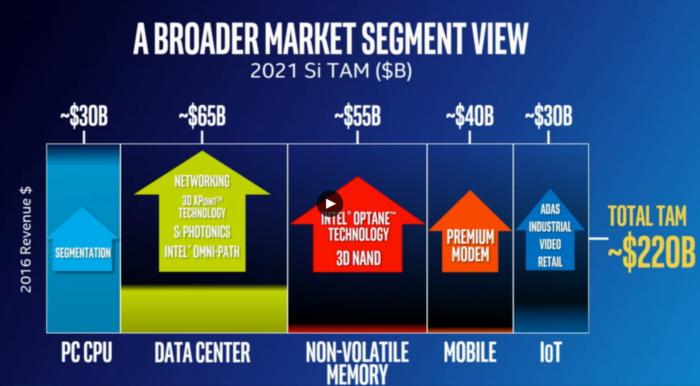 Intel clearly sees opportunities in anything else but PCs.
Historically, if Intel jumped ahead to a new manufacturing technology, its PC chips would get first crack. Now, Intel's premium fab lines are reserved for the Xeon and other chips being shipped to cloud providers and the data center. "It's a big deal," according to Intel's data center chief, Diane Bryant.
What this means: This is Intel putting its money where its mouth is. Venkata Renduchintala, president of the Intel Client and Internet of Things businesses and Systems Architecture Group, spoke glowingly on Thursday of how the PC business grew revenue as PC shipments declined. (Last week, Kim Stevenson, who was second-in-command, left after six months on the job.) But the cloud and the chips that power them are headed in the opposite direction: up. It may be unfair to characterize funding the PC business as throwing good money after bad, but that's a bit of what's going on here.
Intel's priorities: the cloud, not the PC
"2016 was probably the biggest year of transition in Intel's history," Intel's chief executive Brian Krzanich said in introducing the company's investor day, which familiarizes Wall Street with the various components of Intel's businesses.
Intel used to be a fairly simple company: It manufactured chips for the laptop PC, the desktop, as well as for servers. Today, its core microprocessor business is complemented by forays into memory, networking, the Internet of Things, wireless communications, even software. "All of the things we do either produce or require large amounts of data," Krzanich said.
Intel's always had a strong interest in the server market, and a quick look at Intel's price list shows why: Desktop Core chips command $300 or so apiece, while a single Xeon chip for servers can be priced up to almost $9,000.