Infor's Phillips pins growth on user-friendly design revamp
Infor CEO Charles Phillips has made plenty of changes at the ERP (enterprise resource planning) software vendor since taking the top job after a long run as co-president of Oracle, and one of the most significant is a major investment in modern user interface design.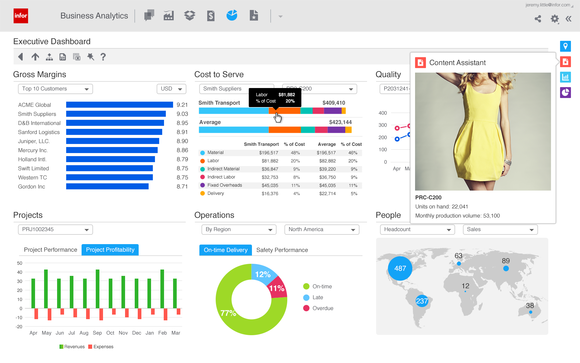 Infor has embarked on a major overhaul of its software's user experience. The new Infor dashboards, for example, feature a modernized, mobile-friendly design.
Overall, Phillips' investment in user interface design has been a good move, according to analyst Ray Wang, CEO of Constellation Research. "There's a battle for user experience," Wang said. "It's key to driving new license sales and adoption."
Infor's back catalog is "as green as the greenest green screens," Wang said. In contrast, "Infor's new stuff is very good. It's mobile-first designed. We've had a few dozen customers choose Infor for UI over SAP and Oracle."
Infor's competitors aren't standing still when it comes to user experience, however. SAP is working on a range of projects, such as the LAVA "design language" for its BI (business intelligence) suite and App Haus, a special development unit working on next-generation user interfaces. Oracle has worked extensively on user testing for its Fusion Applications, which incorporate embedded BI and other modern touches.
In some ways, ERP vendors are being forced to reinvent their products' look and feel. One driver is the rapid rise of smartphones and tablets, which require software to be reconfigured to account for smaller screen sizes. Observers also often point to the younger members of today's workforce, who grew up on user-friendly consumer software and expect their business applications to provide a similar experience.