InDesign CC 2014: Better e-book tools, easier workflows
InDesign CC boasts improved ePub features, better font menus, and performance enhancements, but offers few truly new features.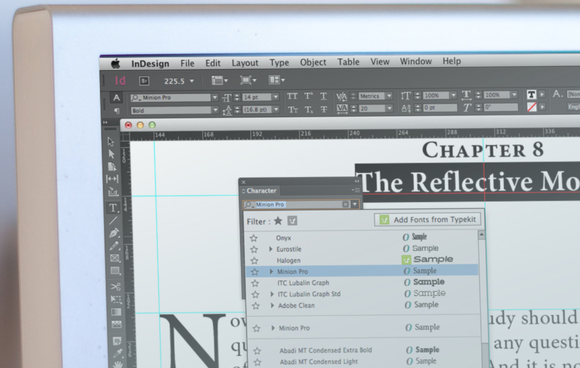 In reviews of previous versions of InDesign, the looming question was always, "Is this version worth the cost of the upgrade or can I skip it?" But with Adobe's switch to the Creative Cloud subscription model, this question is meaningless. Every subscriber receives the latest version as soon as it's available.
Based on the quality of updates released since Creative Cloud was launched a little over a year ago, the result of Adobe's subscription model seems to be good for customers. Bolstered by the confidence that they'll receive your ongoing upgrade dollars, Adobe is spending less time developing shiny new features intended to entice customers to pay for an upgrade. Instead, they seem to be focusing on improving the real-world usefulness of InDesign. InDesign CC 2014 has giant improvements for ePub book producers and lots of long-overdue improvements to meat-and-potatoes features such as creating tables, hyperlinks, footnotes, scaling effects, packaging of project files and printing to PDF printers.
ePub improvements
The biggest improvements in InDesign CC 2014 involve creating ePub files--digital publications in the open .ePub format accepted by most ebook distributors and beautifully rendered by Apple's iBooks app on iOS devices and Macs. Almost all current ePub books are reflowable, which allows the reader to change the font size and style, background color, and other characteristics to optimize the viewing experience on any device. This requires careful structuring of the text and images, which is difficult (if not impossible) when the layout is arguably as important as its text and images, such as in a travel guide or children's book.
To remedy this situation and allow any book to be published as ePub, InDesign CC 2014 adds the ability to export any document to "Fixed Layout ePub" format. This maintains your document's layout exactly as it appears on the InDesign page, and doesn't require the precise structuring of a reflowable ePub. In fact, the user doesn't need to do anything special to their InDesign document--it can be exported with a couple of clicks, just like exporting to PDF. While Fixed Layout ePubs don't allow (or lend themselves to) the customization that a reader can apply to a reflowable ePub, the reader can still copy text, look up definitions, and ask the device to speak the text out loud--a reasonable compromise between losing the layout and maintaining readability.
According to Adobe, these improvements are possible because their engineers spent the past few years teaching InDesign how to reassemble its pages in HTML format, the underlying format of ePub. To help ePub producers, Adobe also streamlined the ePub export dialog to be similar to the PDF export dialog, and added additional Metadata fields. And since every ePub producer needs to test their ePubs across various readers, you can now immediately view the exported ePub file in any combination of ePub reader apps installed on your computer.