The smart new cloud-based messaging system that you've possibly never heard of makes its presence felt at IBM Connect.
Also during the opening sessions, Enterprise Social Solutions GM Jeff Schick dropped a bombshell -- well, OK, whatever the thing is that's slightly less than a bombshell –-that IBM would be providing Verse as an on-premises upgrade to its Domino "Next" social business application platform during the second half of 2016. Yes, if you haven't been paying attention, both the Domino server and Notes client -- formerly the stars of IBM Connect predecessor Lotusphere -- do live. The thinking goes that there's still demand for on-premises products by those organizations perhaps still not quite comfortable with putting everyting in the cloud as well as those not allowed to do so because of governance rules.
Schick, who has been part of IBM's collaboration business since 2006 and is the Father of IBM Connections, expanded on Verse during a follow-up interview.
He boasted that it is the first Web-based mail with an encrypted local store for offline use. It is also the first messaging system using true faceted search, based on the Apache Solr engine, that enables advanced sleuthing for information, Schick says. Verse too can help users visualize who all those people are that get cc:ed on messages sent to you.
"There are improvements that you can make to mail and calendaring that are just so intuitive," he says. "There's a lot of innovation that can really take place in this space."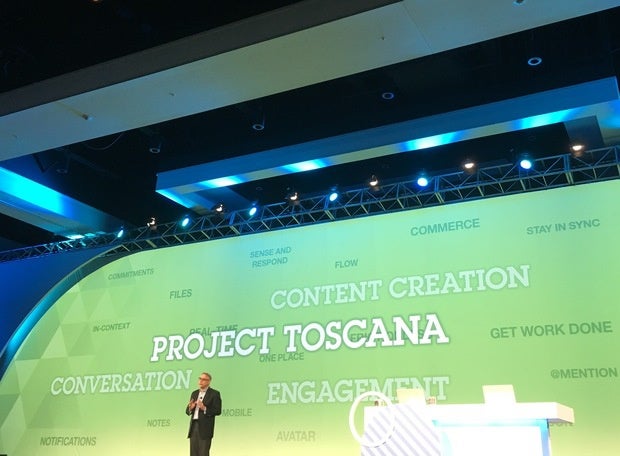 IBM Enterprise Social Solutions GM Jeff Schick reveals Toscana, a conversation engine that could bolster Verse and other enterprise social tools. Credit: Bob Brown/NetworkWorld
For example, Schick discussed a mobile app and Web-based conversation engine dubbed Toscana that would work with products like Verse and could address shortcomings of popular internal text messaging-like apps such as Slack, which he claims users are challenged with from an information organization standpoint. "People are struggling with the basic utility of having a conversation and how to get back to the information and decisions, etc.," he said, adding that it's unclear now whether Toscana will be sold as a separate product or embedded in Verse or Connections, or both. (It is slated to go into customer beta in April.)
(Here's how to trial Verse if you have any desire.)
IBM VERSE ROADMAP
IBM's Verse team dove deeper into the email offering in a breakout session during which the product's 2016 road map was revealed (see photo below). A sampling of intended upgrades include support for easier meeting creation, BOX.com integration, filtering to see unread messages only and Watson as a personal assistant.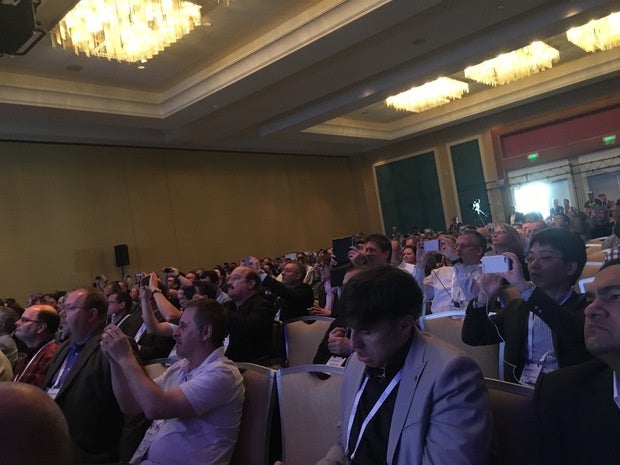 ...and the paparazzi goes wild snapping photos of the roadmap. Credit: Bob Brown/NetworkWorld