The smart new cloud-based messaging system that you've possibly never heard of makes its presence felt at IBM Connect.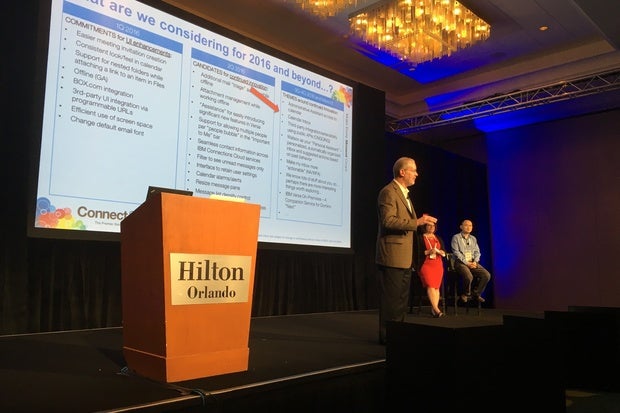 IBM's Scott Souder grants a sneak peek at the 2016 Verse roadmap... Credit: Bob Brown/NetworkWorld
It's been almost exactly 10 months since IBM formally launched its analytics-infused messaging system called Verse, and while the company's announcement of "software for a new way to work" initially generated a relatively positive blast of press and analyst coverage, buzz about the cloud-first product has dwindled since. So I went in search of signs of excitement, or even signs of life, for Verse at the IBM Connect conference this week in Orlando.
It's fair to say that IBM didn't exactly lead with Verse in terms of its IBM Connect marketing, rather pushing a broader message about social business and digital experience. Though a fresh press release touting the company's "growing social business momentum" does mention Verse a few times and even cites one of IBM's Connections Cloud customers –- a professional services and telesales company called Flex Contact Center -- that is now rolling out Verse to 11,000 employees worldwide. What's more, the integrated mail and calendaring technology was the subject of numerous sessions, from "Going Mobile with IBM Verse" to "Boom – Deploying IBM Verse and Connections Cloud at IBM."

IBM Verse cloud-based mail system. Credit: IBM
It took a while for IBM to get around to Verse (as in, short for "converse") on Monday at the show, which kicked off that day with an appearance by charged-up/exhausting NatGeo TV show host Jason Silva and an amusing recycled TED@IBM talk on why computing devices need to have a sense of humor. Indeed, the first significant mention of Verse at the event came during one of those seemingly endless demos starring IBM personnel pretending to be customers.
During the showcasing of a homepage that presents a unified view of mail, calendaring, social networks and notifications, IBM customer experience executive Chris Crummey -- styling the rare combination pocket square/iPhone case -- employed Verse to reach out to a colleague and accelerate sharing of content. He also showed how Verse's calendaring technology can use Watson-powered smarts to advise him which of several conflicting meetings he should attend (uh, the one with the most people above him in the org chart) and monitor emails for tone. In addition, Crummey demonstrated how a Verse calendar snapshot can be taken so that it can be accessed offline.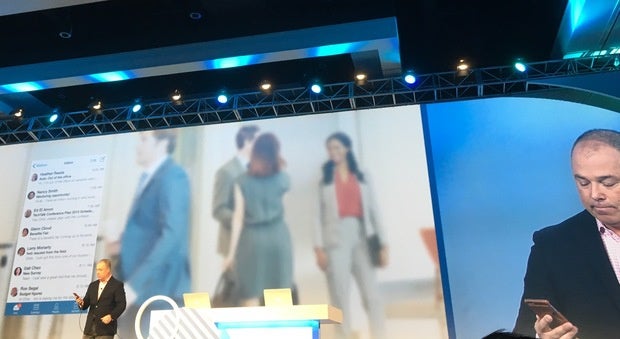 IBM's Chris Crummey stays in sync with colleagues via his cellphone during a social business demo at IBM Connect. Credit: Bob Brown/NetworkWorld