IBM launches Watson Health global analytics cloud
Partnerships also announced with Apple, Johnson & Johnson and Medtronic to improve use of consumer and medical devices.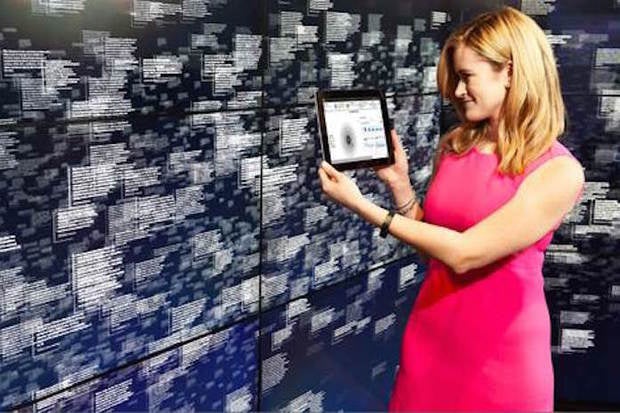 Leanne LeBlanc, IBM Watson project manager, views analytics of healthcare data at Watson headquarters in New York City. IBM said each person generates 1 million GBs of health-related data across his or her lifetime, the equivalent of more than 300 million books. IBM launched the new Watson Health business unit to help patients, physicians, researchers and insurers use data to improve health care and wellness. Credit: IBM
IBM announced a new business unit, Watson Health, that will offer cloud-based access to its Watson supercomputer for analyzing healthcare data.
The Watson Health Cloud will be an open source but secure platform on which care providers and researchers can share and analyze health data for greater insights into trends to improve individual and overall patient outcomes.
IBM, which made the announcement at the Healthcare Information Management Systems Society (HIMSS) conference in Chicago, also said it has acquired big data healthcare analytics providers Phytel and Explorys, whose software will be used in concert with Watson Health.
The Explorys platform enables healthcare systems to collect, link and combine data from hundreds of disparate sources across their enterprise and clinically integrated networks. This data will be derived from clinical, claims, billing, accounting, devices, community and patient information.
Phytel develops and sells cloud-based services that help healthcare providers coordinate care in order to meet new healthcare quality requirements and reimbursement models.
"Their data sets represent 90 million lives, primarily in this country," said Mike Rhodin, senior vice president of IBM's Watson Business Group.
Additionally, IBM announced three new partnerships with Apple, Johnson & Johnson, and Medtronic to optimize consumer and medical devices.
IBM will apply Watson Health cloud services and analytics to Apple's HealthKit and ResearchKit, two features announced with last month's release of Apple Watch. HealthKit enables the collection of data from the Apple Watch, and ResearchKit enables Apple Watch wearers to take part in massive health data studies by sharing the baseline vital signs and activity data.
Apple engineers have been working with dozens of research institutes, such as the Mayo Clinic, in developing apps that will help in research on Parkinson's Disease, diabetes, cardiovascular problems, asthma and breast cancer.
IBM will provide a secure research capability on the Watson Health Cloud platform, de-identifying personal data to allow researchers to easily store, aggregate and model information collected from iOS users who opt-in to contribute personal data to medical research.
Johnson & Johnson will collaborate with IBM to create intelligent health coaching systems centered on preoperative and postoperative patient care, including joint replacement and spinal surgery.
"There's so much we have to learn with this sea of data," said Len Greer, president of Health and Wellness Solutions at Johnson & Johnson. "We're going to start this collaboration [with IBM's Watson Health] with joint replacement surgery... joints, knees and hips."