HP's new displays push curves, VR and a 5K priced so low you MUST read this story
HP's latest monitors get curvy, push virtual reality and push a new price on 5K monitors that's unbelievable.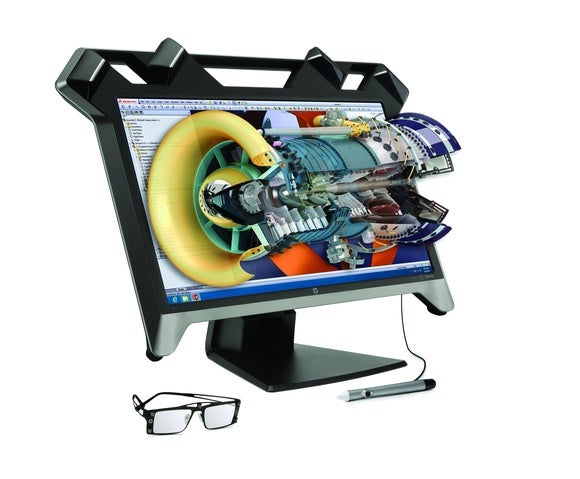 Ever wish you could just grab a 3D model of a plane on the screen, flip it around and look inside as though it were floating in front of you?
Your wish will get one step closer this year when HP begins shipping its first monitor using zSpace technology. The Zvr Virtual Reality Display blends a 3D monitor with precise head tracking and pen technology to create "virtual holographic 3D images" in front of you that you can manipulate with a pen.
Spec-wise, though, the Zvr Virtual Reality Display's not that remarkable. It's a 120Hz TN panel with passive circular polarized glasses and a pedestrian resolution of 1920x1080. Input is either DVI or DisplayPort 1.2. So far, meh, right? After all, passive 3D is pretty inferior compared to active 3D, right? And 1080p? That's for plebeians.
That is, until you slip on the glasses (which feature small tabs, so the monitor can track the angle and position of your head) and grab a model of a lunar lander with the pen. Your jaw will drop, as it seems to float in real space in front of you.
That's the impact HP is hoping for, too. Alas, HP isn't actually aiming the monitor at consumers today. Rather, it sees the Zvr in commercial applications such as medical or scientific uses. Pricing of the monitor wasn't disclosed, but it's not expected to be cheap initially. Perhaps the worst part: The monitor won't be available until this spring.
5K is the resolution, not the price
Speaking of cheap, and by that I mean cheap in the way you would feel elated for lucking into a $1,300 laptop for $400, HP's new 5K Z27q is sure to warm your heart.
This new 27-inch panel will feature a UHD resolution of 5120x2880 for the low, low price of $1,300. If you just coughed up your Diet Coke because that's not exactly what you consider cheap, consider that when Dell spilled details of its 5K monitor in September, the price was $2,500. That price dropped to $2,000 after Apple's bombshell pricing on the new iMac, a 5K display on top of a complete computer, for $2,500.
In that context, the Z7q is quite a price breakthrough. And it's no low-quality TN panel, either: It's an IPS panel boasting 10-bit color and a 99-percent Adobe RGB color gamut. It can rotate to a portrait mode, and it has two DisplayPort 1.2 inputs.
Why two? DisplayPort 1.2 can't hack the bandwidth needed to push the pixels to a 5K panel on a single cable. That won't come until DisplayPort 1.3 monitors hit the street, so you'll have to slave two DisplayPort 1.2 inputs together just to drive the monitor. HP will ship the panel in March.