HP Omen 17 review: Great gaming performance at a great price
The updated Omen 17 may not look like much, but it has it where it counts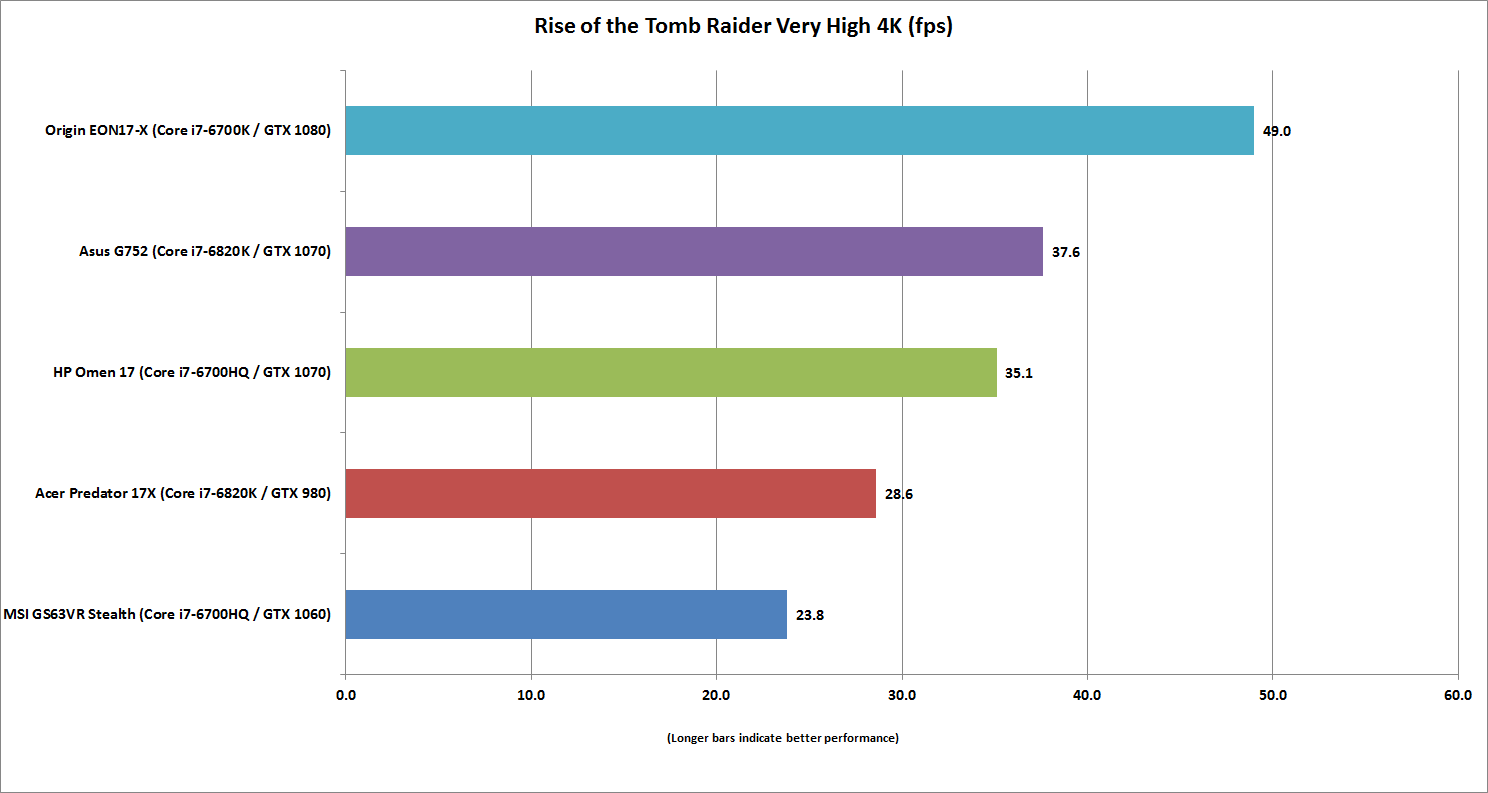 Rise of the Tomb Raider should probably be run with a few settings trimmed down at 4K resolution on all but the GTX 1080.
Handbrake encoding performance
I don't believe in the 100-percent gamer, because everyone does something besides gaming on a PC once in a while, right? That means the CPU still matters. To test the CPU performance of the Omen 17, I ran our Handbrake 0.9.9 and encoded a 30GB 1080p video file using the built-in Android tablet preset.
Because every laptop here save the Origin EON17-X (review forthcoming) used Intel mobile Skylake quad-core CPUs, the performance was pretty much a tie when the Predator 17X and Asus G752VS OC Edition were run at their out-of-the-box stock speeds. Overclocking would lower their scores, but none of them would likely touch the Origin EON17-X, which has a desktop Skylake quad-core CPU in it.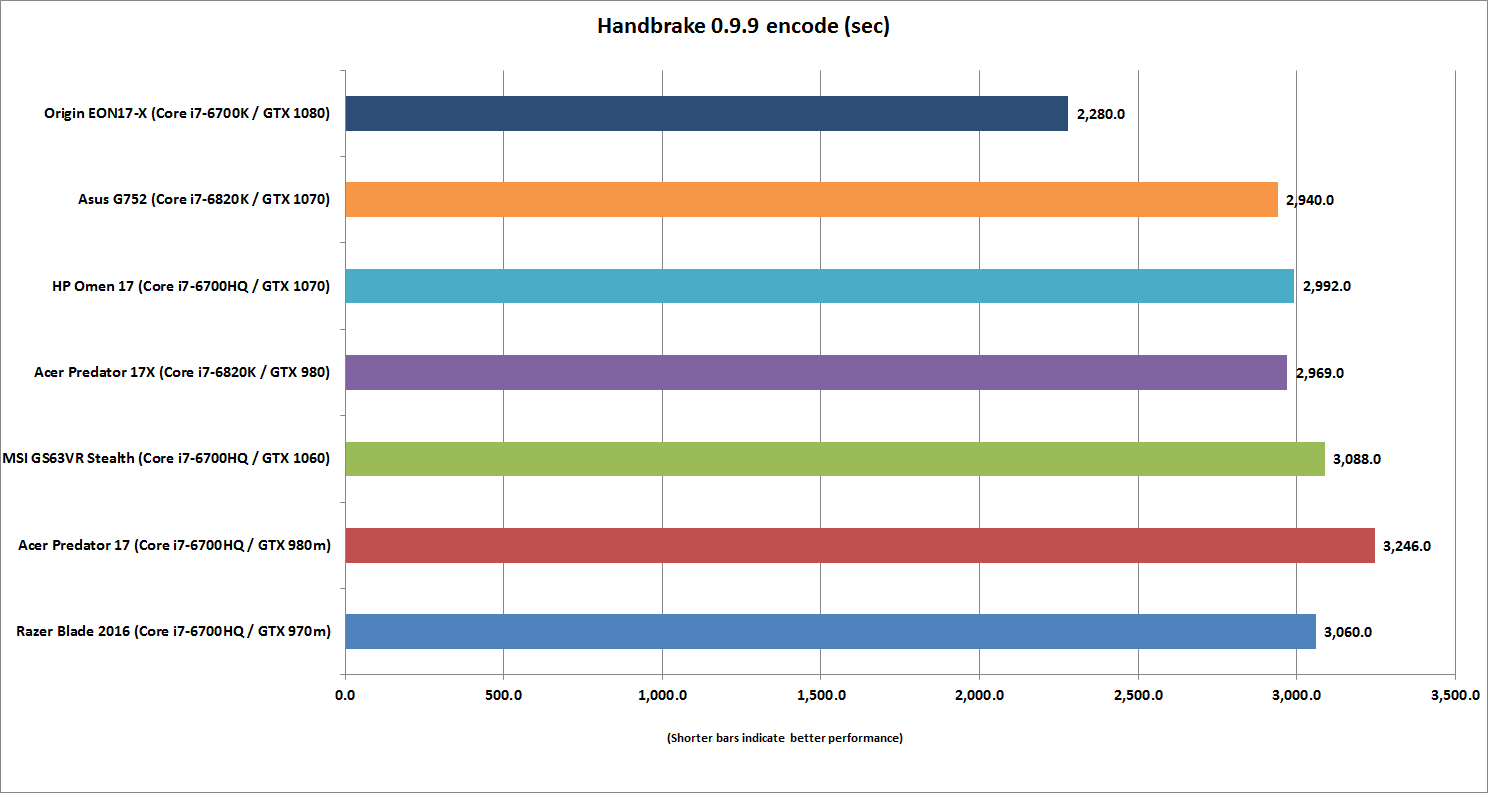 Our Handbrake tests puts the quad-core mobile CPUs all in a similar performance range.
Serviceability
Small laptops might as well be iPads for all the upgrades you can perform. Big gaming laptops usually offer some ability to service the interior, but the Omen 17 is an exception, unless you love removing a lot more screws. There is a single door on the bottom, but removing it gives you the ability to upgrade the RAM, and that's it. Hint, HP: people like to upgrade the storage subsystems and maybe clean the fans out on occasion, so make the access door bigger.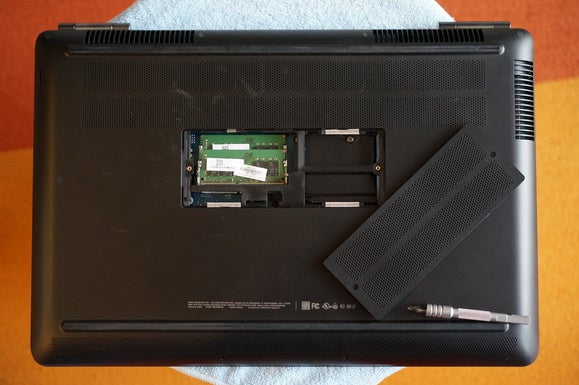 HP gives you fairly limited access to the guts of the Omen 17. Pop the door open and all you can replace is the RAM.
Conclusion
Despite the sedate style, the simple truth with the Omen 17 is that you're getting top-of-the-line performance at a pretty good price. Our review model, for example, with its GTX 1070, quad-core CPU, 16GB of DDR4/2133 RAM, 256GB SSD, and 4K G-sync panel is $1,800. To get those parts in a 17-inch laptop from other vendors might cost you another $200 to $400.
Of course, those other vendors will give you a more aggressive look, more flashing lights and more bling, but is it really worth it? That's ultimately up to you. As it stands, the Omen 17 is hella fast and a hella good deal.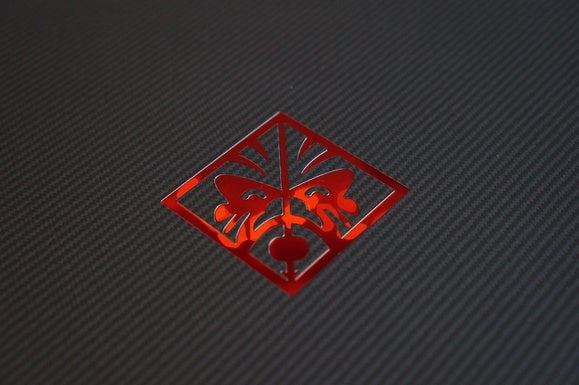 The Omen logo is a vestige of Voodoo PC that HP bought in the go-go 2000's.
Previous Page 1 2 3 4