HP Omen 17 review: Great gaming performance at a great price
The updated Omen 17 may not look like much, but it has it where it counts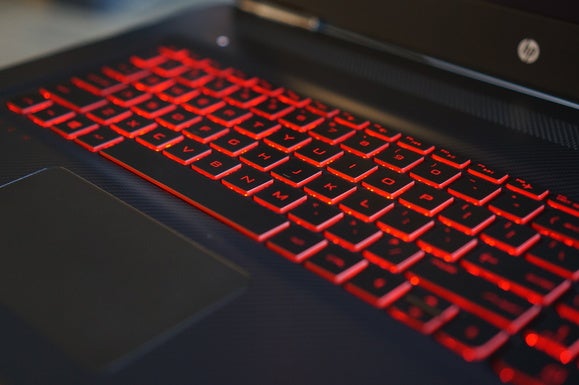 It's red, but there's no support for any other color nor zone lighting on the Omen 17.
The Ports
In the port count, the Omen 17 gives you a reasonable but not overly generous selection. With a total of three USB Type A ports, HDMI and miniDisplayPort, mic, headset SD card reader and Gigabit ethernet, you'll mostly be happy.
Notably missing from the Omen 17 is Thunderbolt 3, which is rare not to find in a high-end gaming laptop. Thunderbolt 3's use on a high-performance laptop would be to transfer files at 40Gbps. If there's no Thunderbolt 3, HP could at least have integrated a USB 3.1 10Gbps controller to let you move files faster than the Omen's 5Gbps ports.
One other meh feature of the Omen 17 is the audio. The laptop has Bang & Olufsen tuning, but I found the audio lacking when compared to other 17-inch laptops. It just can't bring the beat. It wouldn't have been as bad for a mainstream laptop, but I expect more from big gaming laptops.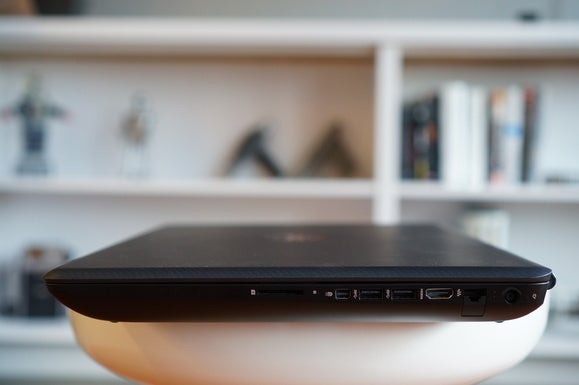 You get a Gigabit ethernet, HDMI 2.0, two 5Gbps USB Type A ports, a miniDisplayPort and SD card reader on the right side of the Omen 17. The left side adds one more USB Type A and two analog audio ports.
The most important matter in a gaming laptop is how well it performs in games. The Omen 17 doesn't disappoint there.
3DMark FireStrike Extreme Performance
To see just where the Omen 17 and its GTX 1070 falls in the pecking order, I compared it to a spate of old and new burly gaming laptops. To get a feel for how much performance is available from each level of GPU, I threw in the tiny Razer Blade 2016 and MSI's new GS63VR Stealth, the latter of which I'm currently reviewing.
The test is 3DMark FireStrike Extreme, and I'm reporting only the graphics sub-score, which isolates the GPU performance a little more.
For the most part, the Omen 17 hangs slightly behind the Asus Republic of Gamers G752VS OC Edition that we reviewed. That's no surprise, as the Asus has the same GeForce GTX 1070 GPU.
The Omen 17 and its GTX 1070 flatly leave the older GTX 980m and even the GTX 980 sucking exhaust.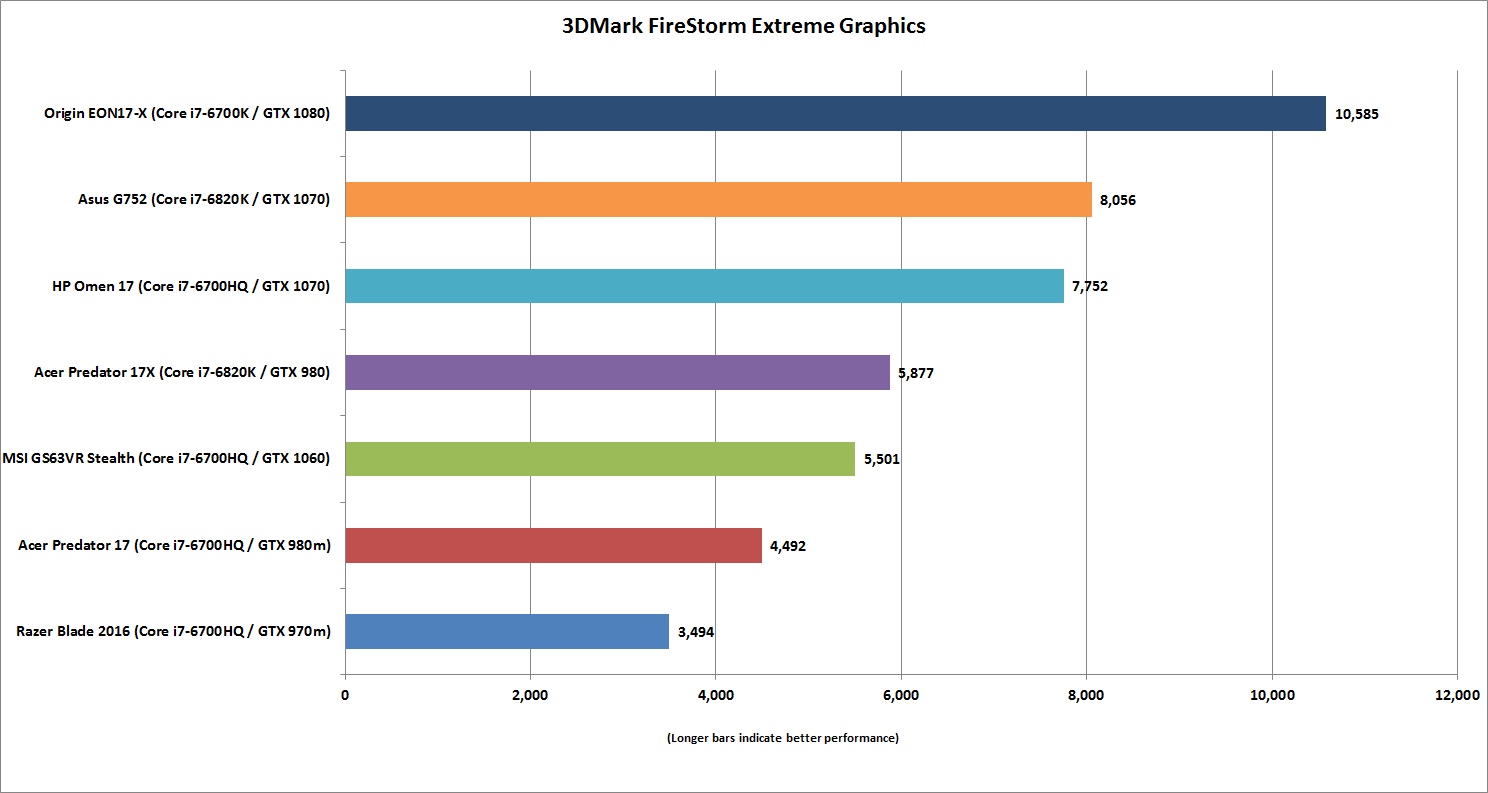 The Omen 17 is a slightly slower than the Asus G752VS OC edition in 3DMark FireStrike Extreme Graphics.
The test above is 3DMark FireStrike Extreme. I'm reporting only the graphics subscore, which isolates the GPU performance a little more. Because many people have access only to the 3DMark FireStrike Extreme Overall score, I'll also provide that data. Even though it factors in the CPU a little, it's still mostly a graphics score and doesn't change much.
Previous Page 1 2 3 4 Next Page