How to use Up Next on iTunes and on iOS
Be a better manager of your music queue.
But what if you want to add more tracks to the Up Next queue? There are several ways to do this.
Click the ... icon next to any track in your library, and choose either Play Next, to put the track at the top of the queue, or Add to Up Next, to add it to the end of the queue. (If the queue is empty, then the track becomes the first track in the list.)
Right-click or Control-click a track and choose choose Play Next or Add to Up Next.
Drag items to the iTunes LCD; they get added to the end of the Up Next queue.
Hold down the Option key and click the small Add to Up Next icon that appears to the left of a track, or in the header of a playlist or album (the play button changes to the Add to Up Next icon). Click that icon to add the item to the queue.
Select a track and press Option-Return to add it to the head of the queue; this is the same as choosing Play Next using one of the above methods.
Note that you can clear the Up Next queue at any time by clicking the Clear button.
If you click the clock icon in the Up Next popover, you can see your play history. You can add tracks to the Up Next queue again by hovering your cursor over a track and clicking the Add to Up Next icon that displays to the left of a track, or click the ... button to perform other operations, such as Play Next.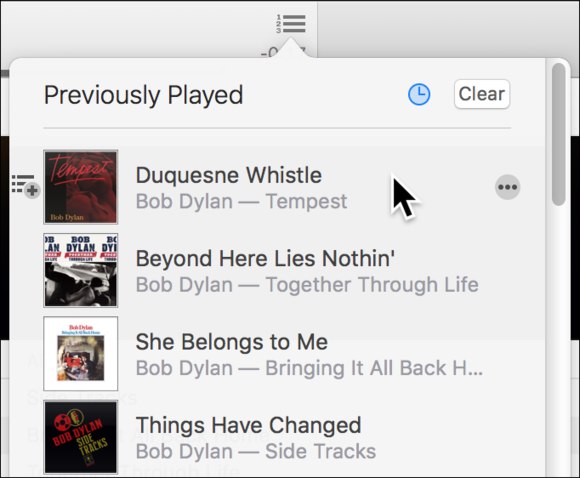 See your play history by clicking the clock icon.
iTunes stores your Up Next playlist when you quit the app. So if you relaunch iTunes, you can go back to what you were listening to before. Just display the Up Next popover and double-click the first track to start playing your queue.
Up Next on iOS
Once you've understood how to use Up Next in iTunes, it's simple to use the feature in the iOS Music app. While the menus are different, the concepts are the same. To view the Up Next queue, tap the Up Next icon when you're playing music.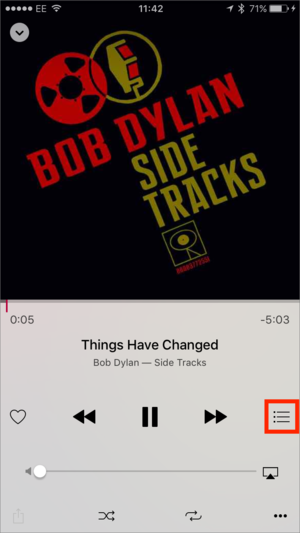 I've surrounded the Up Next icon with a red square. Tap this icon to display the Up Next queue.
You'll see the Up Next queue, with the currently playing track at the top, followed by the rest of the queue. You can delete a track by swiping to the left and tapping Delete. Or you can move a track in the queue by dragging it up or down. Tap Add to search for and add any other track on your iOS device. Tap Clear to delete the queue.