How to use Up Next on iTunes and on iOS
Be a better manager of your music queue.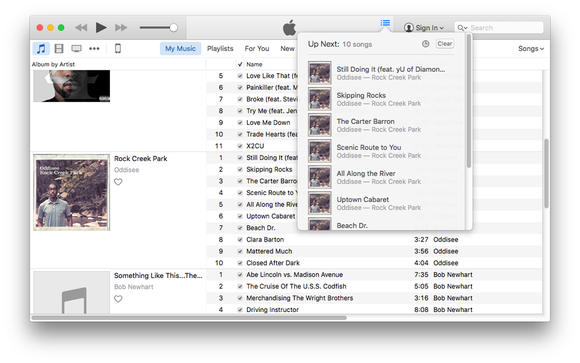 iTunes and the iOS Music app both offer Up Next, a way to queue up music you want to listen to. They work in very similar ways, allowing you to add music to the Up Next queue, change the order of tracks in the queue, and remove specific songs from Up Next. Let's take a look at how to use Up Next in iTunes and the iOS Music app.
Up Next in iTunes
Apple introduced Up Next in iTunes 11, which was released in late 2012. It was hard to get used to at first. You may have previously used iTunes DJ, which offered a similar way of queuing up songs, and this earlier feature provided an interface that was easier to use, since it looked just like a playlist. Up Next, however, is only accessible from a popover in iTunes, making it a bit harder to manage. That popover isn't very large, and it only displays a maximum of twenty songs.
First, let's get a handle on the concepts behind Up Next. In iTunes and in the iOS Music app, Up Next is always active. There is always a queue of songs waiting to be played, unless you start playing a playlist with just one track.
The easiest way to understand Up Next is to look at how it works when you play a playlist. If you select a playlist and click the Play button, or double-click one of its songs, iTunes populates Up Next with that entire playlist, or with the selected song and all those that follow. You can view the Up Next queue by clicking the Up Next icon in the iTunes LCD.


Here's the Up Next queue for a playlist I just started listening to by clicking the Play button in its header.
When you're viewing the Up Next queue, you can delete tracks from the queue (this doesn't affect the content of the playlist), or change their order.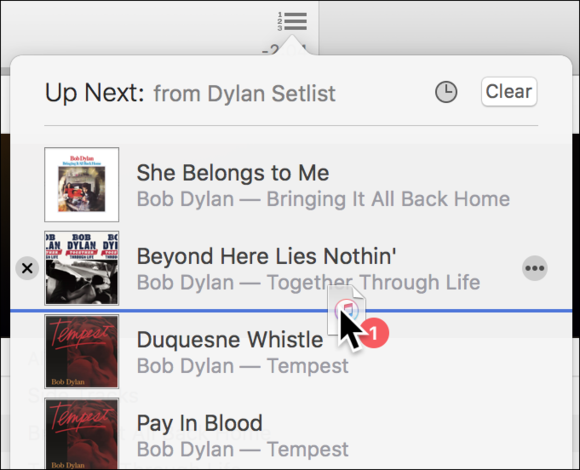 I've selected a track and I'm moving it down to a different position.
You can see above that there is an x button and a ... button to either side of the track that I've selected and that I'm dragging. Click the x button to delete the track from the Up Next queue, and click ... to access a number of functions, including Play Next, to bump a track to the top of the queue. You can rearrange the play order by dragging a track to a new location.