How to use Siri in macOS Sierra
A look at using the Apple's virtual assistant on the Mac.
On iOS, I activate Siri by saying "Hey Siri." Vocal activation isn't available on the Mac version of Siri in the Sierra Public Beta, and I wonder if it will be available at all. Since I usually have my iPhone with me (and I usually take it out of my pocket when I sit at my desk), there needs to be a way to differentiate which Siri you want to use, such as a unique trigger phrase.
If you use the VoiceOver and Switch Control accessibility features on the Mac, Apple says that Siri will work with those features.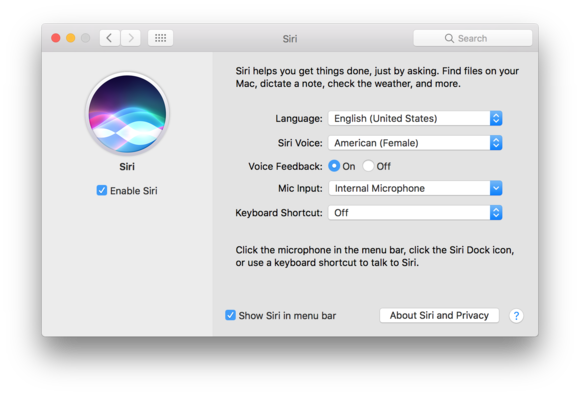 Siri settings in macOS Sierra.
I'll dive more into Siri's settings in a bit. Let's go into what you came here for: Siri for macOS in action.
Using Siri on a Mac
Once you launch Siri through the Dock or menu bar icon, or by a keyboard shortcut, a Siri window appears in the upper right corner of the screen, along with the familiar two-beep Siri tone. If you don't have an internet connection, Siri won't work.

No internet? No Siri.
(Note: The videos below were originally recorded using the Sierra Developer Preview. I performed the same tasks in the Sierra Public Beta and got similar or the same results.)
Since most people are used to using Siri on iOS, your first inclination is to use Siri for Mac as you would on your iPhone. For example, you might use Siri to look up showtimes at nearby movie theaters.
I then asked Siri about a current event. It took a little longer for a response. (My query was a little more generic than it probably should have been.)
For upcoming events, you can take the Siri results and pin them to Notification Center.
Siri for Mac is appealing as a tool for managing files. One of the Siri demos shown at WWDC was the ability to show file based on a given criteria. It worked for me, even with my files being saved to Dropbox.
You can also use Siri to make some changes in System Preferences. Siri is suited for settings you'd adjust on a frequent basis, like changing the sound volume, or adjusting the screen brightness. I was able to turn Bluetooth on and off, but when I asked Siri to "Activate FileVault in System Preferences," it said it couldn't do it.
Siri on the Mac, is, well, still Siri. It still has trouble understanding me sometimes. Maybe it's the way I talk, I dunno. But I tried several times to have Siri tell me when the Copa América Centenario championship game will be played, and this is what I got.