How to replace Windows Media Center's DVR features in Windows 10
Microsoft didn't do cord cutters any favors with Windows 10.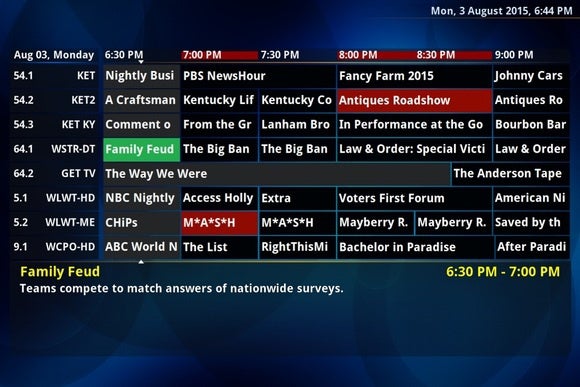 Microsoft didn't do cord cutters any favors with Windows 10.
As revealed a few months ago, the free upgrade for Windows 7 and higher wipes out Windows Media Center, a decade-old program that provides a TV-friendly interface for multimedia files. While most people won't notice WMC's absence--Microsoft says the software is barely used for anything other than DVD playback these days--for some users it's the backbone of their entire living room setup, thanks to its ability to play and record live TV.
Excited as I am about Windows 10 in general, I've been torn about whether to upgrade my own desktop PC, as I like the ability to record shows from free over-the-air channels like ABC, CBS, Fox, and NBC. So before upgrading, I searched for a Windows Media Center alternative that was easy to set up and use.
So far, I haven't found anything as simple as Windows Media Center, especially when it comes to setting up TV guide data. Still, broadcast DVR is doable in Windows 10, so if you're itching to upgrade, here's how to setup the best Windows Media Center alternative I've found:
NextPVR: The most painless of the lot
After examining a bunch of options, I settled on NextPVR as a replacement for Windows Media Center's DVR features. It's not the slickest program around, but I found the setup process easier to follow than other programs like Kodi and MediaPortal (which isn't saying much, by the way).
All you need to get started is a TV tuner for the PC--such as a SiliconDust HDHomeRun or Hauppauge WinTV USB tuner--and an over-the-air antenna. Just follow these steps, and you'll be fine:
1. Before installing NextPVR, download MC2XML for Windows. You'll need this program to retrieve TV guide data.
2. In File Explorer, create a new folder at "C:\EPG" and place mc2xml.exe inside. You can choose a different folder, but will need to modify step 7 below.
3. Run mc2xml.exe, and a screen will appear where you can enter a zip code to get local channel listings. Leave the other options as-is, and press OK. (More discussion on this at the bottom of the guide.)
4. In the lineup selection prompt, look for the "Digital Terrestrial Lineup" option and press OK.
5. Download and install the latest version of NextPVR. Don't launch it just yet.
6. Before launching NextPVR, navigate to "C:\Users\Public\NPVR\Scripts" in File Explorer. Create a new text file, and rename it to "UpdateEPG.bat." (Make sure you can see the full file name extension, and that there's no ".txt" on the end of it.)