How to live stream Android games to YouTube and Twitch
Show off your skills and broadcast from your phone or PC.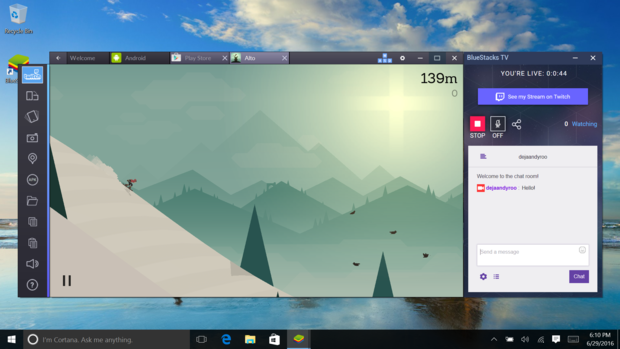 Android emulation is another way to stream games onto Twitch, although you won't use your touch device at all.
Using BlueStacks is a bit off-putting, to be honest: initially you're only shown Asian versions of apps until you log in, and it's an older, trimmed-down version of Android with a custom launcher. Furthermore, Google recognized my logins on Mac and PC to be from a Samsung Galaxy S5 and Note 3, respectively, rather than mentioning BlueStacks by name. All told, the early moments are a bit confusing.
But once you're up and running, it works… and pretty well, too. I played Alto's Adventure on my first-gen Surface Pro running Windows 10, and streamed the gameplay to Twitch along with my face from the PC's front-facing camera. Performance suffered just a little bit once I had the stream live, but the game was plenty playable, and my Android phone never came into play. It's an easy way to get Android gameplay onto Twitch, even if it doesn't really feel like the real thing.
Previous Page 1 2 3 4