How to live stream Android games to YouTube and Twitch
Show off your skills and broadcast from your phone or PC.
As with YouTube, it'll capture anything that appears on your phone screen, so keep that in mind while browsing your device—and you'll need Android 5.0 or newer to stream. Rather than show your own image on your screen during play, Mobcrush puts a small "M" icon in view that you can drag and drop anywhere. From there, you can dig into the same kinds of settings, including video controls and chat.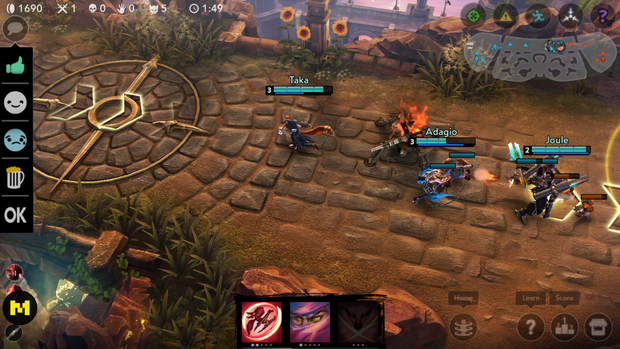 That little "M" logo on the bottom left can be moved anywhere so it doesn't block essential UI elements. Tap it to bring up stream controls.
It's all pretty easy to get a hang of, and getting your stream online takes minimal effort. Mobcrush doesn't have quite the reach of YouTube, certainly, but the mobile-centric approach and focused feeds might be useful for finding like-minded Android fans.
What about Twitch?
Curiously, as of this writing, the official Twitch app doesn't let you stream gameplay directly from your Android device. That's a surprising oversight, seeing as Twitch is seemingly everywhere else (including game consoles), although I imagine that will change soon. In the meantime, how are you supposed to broadcast your amazing Android antics onto the preeminent game streaming network?
One option is to use Screen Stream Mirroring ($5), an all-in-one app for streaming your Android phone's screen to Twitch or YouTube, or mirror it to a PC or another device. The app has a lot of options and settings, which might seem overwhelming at first, but getting online with Twitch isn't too difficult. Simply log in and find your stream key in Twitch's settings, pick your nearest Twitch server, and then your feed should be live.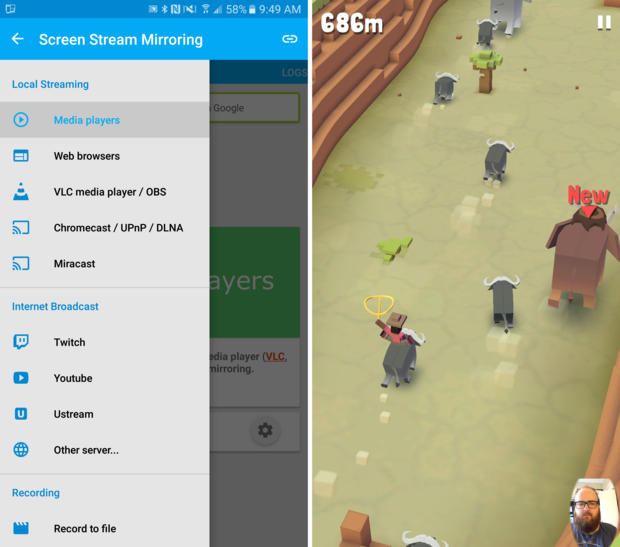 Screen Stream Mirroring isn't quite as streamlined as those other apps, but it'll get your Android games onto Twitch.
It's worth looking through all of those options, however, as you can change the quality of your stream, enable camera and chat overlays and customize those elements, and do a lot more fine-tuning of the experience. As with the other streaming apps, you'll need at least Android 5.0 for streaming to web services. And if your device is rooted, you can also tap into internal audio for your stream, rather than just what the microphone captures.
Ditch your phone?
Alternatively, consider using BlueStacks, an Android emulator for PC that has built-in and officially supported Twitch streaming functionality. BlueStacks is an interesting beast: it doesn't rely on your Android device at all, and in fact, you don't even need to own Android hardware.
BlueStacks runs purely on your Windows PC (the Mac version doesn't have Twitch support), and it offers a streamlined version of Android right on your desktop. Once logged in with a Google account, you can download anything from your local Play Store—including anything you've purchased on your Android phone or tablet—and start playing using your mouse and/or keyboard commands.
Previous Page 1 2 3 4 Next Page