How to live stream Android games to YouTube and Twitch
Show off your skills and broadcast from your phone or PC.
YouTube Gaming
With all that set, your best option for streaming footage directly from your Android device is YouTube Gaming, the games-specific app from the video giant. YouTube is the home to just about everything in video, and its streams cover PC and console games alongside mobile stuff, with everything neatly categorized in the app. Note that you'll need to have Android 5.0 or 5.1.1 or newer to use the streaming functionality.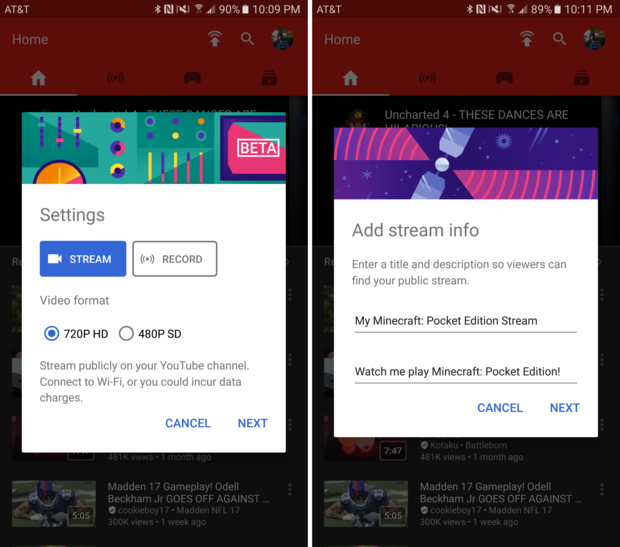 Streaming with YouTube Gaming is super simple, plus it'll archive your videos for viewing later.
Getting your stream up and running is a breeze: in the upper right corner, click the little upward-facing arrow with the Wi-Fi-like waves above it and choose whether you want to stream or record what's on your screen. Assuming it's the former, you'll pick between 720P (HD) and 480P (SD) quality, choose the game you want to play, and give your channel a name. You can also share the stream link via social media before it starts running.
Once live, the feed will capture everything from your screen—so consider turning off notifications so your private messages remain that way. The front-facing camera can capture your mug, and tapping the image brings up the controls, letting you add visual filters to your camera feed, enter chat, see how many viewers you have and the stream quality, or pause/stop the stream.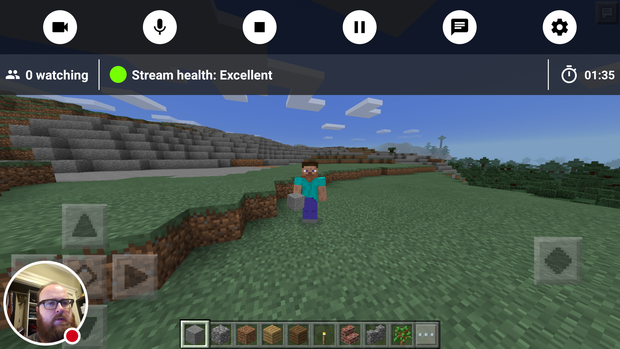 Tap your camera image to bring up the overlay, which has quick controls and stats on your broadcast.
When you're finished, the stream is saved as a YouTube video and published for posterity, although you can always delete it if you please. YouTube Gaming is straightforward and easy to use for direct-from-device streaming, plus YouTube has a huge audience, so you might have an opportunity to reach a wide audience with your streams and saved videos.
Mobcrush
Looking for something a bit more focused than YouTube? Mobcrush, which just recently hit Android with its public beta release, is a streaming community focused entirely around mobile games. That means you won't have to fight through endless Overwatch and League of Legends streams to find what you want… assuming what you want are Android favorites like Clash Royale, Hearthstone, and Vainglory.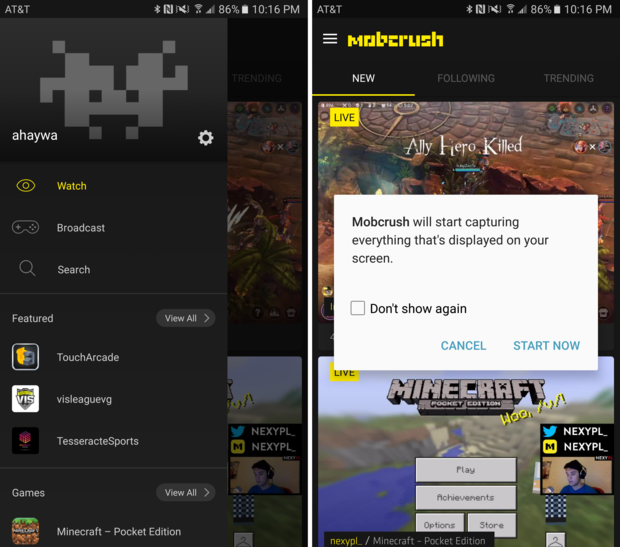 Mobcrush also makes direct-from-device streaming a pretty straightforward process, plus it's all mobile games (and fans) here.
Mobcrush has a different interface than YouTube Gaming, but isn't difficult to figure out. To start streaming, simply swipe from the left and tap "Broadcast." Hit "Start Now" and input the game title and a channel description, as well as your preferred bitrate, and you'll start streaming immediately.
Previous Page 1 2 3 4 Next Page