How to live stream Android games to YouTube and Twitch
Show off your skills and broadcast from your phone or PC.
Watching people play live video games from anywhere in the world has become a surprisingly huge phenomenon in recent years. Twitch is now a game-streaming juggernaut while YouTube has embraced gaming and live streaming in a big way, and seemingly everyday people have become well-paid Internet personalities because they play video games and chat.
Are you the next streaming sensation? Don't bet on it—but you can still get in on the social fun of live streaming, and you don't even need a high-end gaming PC or console to do it. It's surprisingly easy to live stream Android games right from your phone or tablet using apps like YouTube Gaming and Mobcrush, or to use an Android emulator on your computer.
All you need is some decent bandwidth, an extroverted spirit, and hopefully decent skills in at least one Android game. Got all that covered? Great: here's what you need to know.
What is streaming?
In case you're not one of the millions of gaming fans tuned into Twitch and YouTube on a regular basis, here's a quick rundown of the live streaming phenomenon. In short, people share live footage of themselves playing video games, often competitive online games or those that have some kind of unique hook.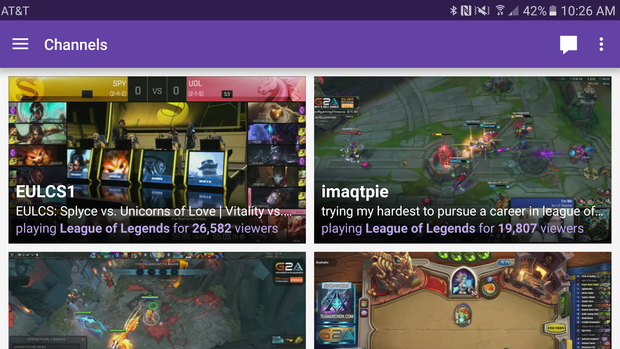 Even on a weekday morning, 26,000+ people tune in to watch a game of League of Legends on PC. The peak totals get dramatically higher than that.
This might not sound very fun, especially when you could play a game yourself, but there are often compelling reasons to watch. For example, a streamer might be an amazing player, letting you see a level of competitive play that you aspire to. Or maybe he or she does speed runs to finish games as quickly as possible, or try to find all the collectibles or secrets. In that sense, a live stream might prove informative. It could also just give you a look at real, unedited gameplay so you can decide whether or not to buy a game for yourself.
The social element is also important, as viewers can not only chat with the streamer, but also other viewers. That creates a sense of community around games, and it's a good reminder that there are best practices to follow if you're the one doing the streaming.
Ideally, you should use the camera and microphone to show yourself playing, and be sure to react to and perhaps even describe what's happening in the game. Also, interact with your viewers: mention them as they come into the room, speak out responses to their questions and comments, and give them reasons to stick around. And if you plan on streaming regularly, set a schedule and advertise your streams via social media.