How to collaborate on documents using iWork and iCloud.com
You can use Pages, Numbers, and Keynote to create documents with your friends, family, or co-workers, Here's how to get started.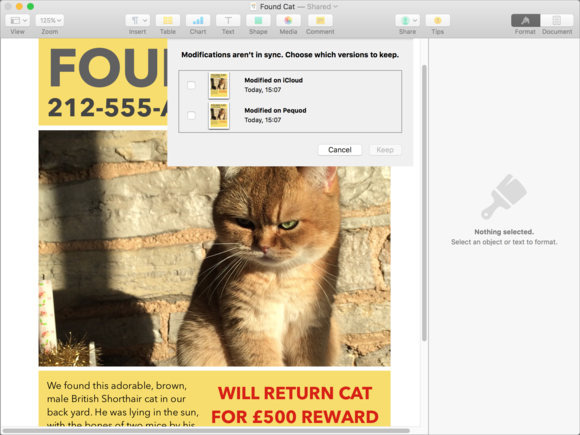 If changes are made by more than one person, you'll be alerted, either in the app (here, Pages), or in the web interface on iCloud.com.
You can browse a version history—click the Tools icon (the wrench), and then choose Browse All Versions—but you can only restore different versions entirely, not view them to compare them with your original or final document. If you're used to change tracking in Microsoft Office apps or ever Google Docs, you'll be disappointed by the way this feature works with iWork apps.
You can, however, browse versions on a Mac. In your iWork application with a shared document open, choose File > Revert to > Browse All Versions. You'll see your current version to the left, and older versions to the right. These may be different versions containing only your additions and edits or versions edited on iCloud.com. You can navigate through these versions as you would when viewing locally-saved versions. Some of these versions may be in the cloud; in this case, they display a cloud icon followed by the text Load This Version. Click the text to download and view the version, and then compare it to your final document. You can restore any of these versions, or note changes made and then apply them to your document.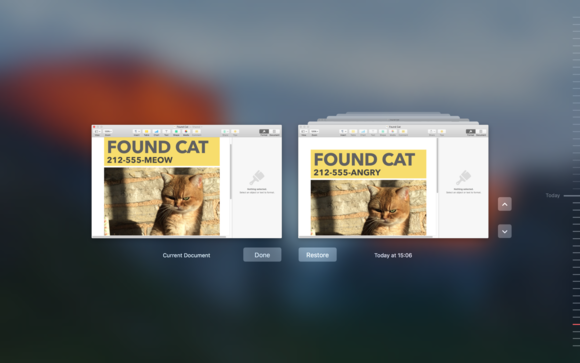 You can browse versions on a Mac and compare them, but charges aren't tracked or highlighted.
While iWork's collaboration features are interesting, their weaknesses make them useful only for the most basic editing and changes. iCloud.com really needs proper change tracking for these collaboration features to be fully usable. They're a great way to let someone view a document, especially if they don't have a Mac, but the lack of actual change tracking means that you won't see enough precise information about edits.
Previous Page 1 2 3