How to better organize your classical music in iTunes 12.5
New Work and Movement tags put iTunes in the right direction for organizing classical music.
Type or paste the movement names into the appropriate tags, and click OK. iTunes now displays the work as follows:
Here's how iTunes displays a work with its movements named using the new tags in Songs view.
As you can see above, iTunes now displays an aggregate name, made up of the work name, a colon, a Roman numeral for the movement number (if you've entered it), and, finally, the movement name. In Songs view, the display isn't very different from before, but if you switch to Albums view, and expand an album, you see the works and their movements: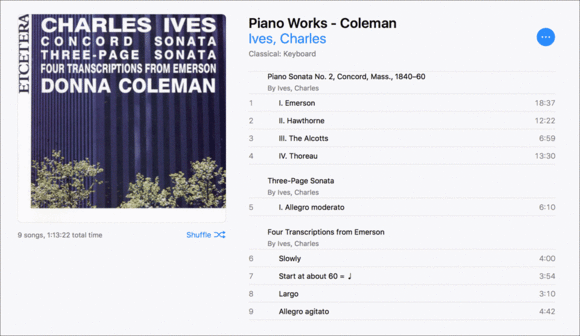 iTunes displays works and movements in Albums view.
Here's how this work displays on iOS:
iOS displays works and movements as well.
This display is similar to the way the iTunes Store displays some classical music, using the Grouping tag. However, I only see this display when I sync music to an iOS device; adding these tracks to iCloud Music Library only displays the Name tags without the works and movements as above. So there's clearly a breakdown once these tracks get matched and/or uploaded to the cloud.
Some purchased tracks, and some Apple Music tracks, also show these Work tags. I suspect that only albums that used the Grouping tag previously on the iTunes Store benefit from this change; otherwise, Apple would need to manually edit tags for potentially millions of tracks.
While you can set these new tags, they're not particularly useful when managing or listening to classical music; all they do is display names more consistently. You can't select a work by clicking its name, for example, to quickly add it to a playlist or Up Next as you would an album.
This tagging can be complex, and Doug Adams has created a trio of AppleScripts that you can download called Work and Movement Scripts. You can use these to copy a Name tag to the Work tag; copy a (Song) Name tag to the (Movement) Name tag; and copy the Grouping tag, if you have filled this in, to the Work tag.
Apple has made big strides here, catering to the niche market that is classical music, with these new tags. I just wish they were a bit easier to use and better thought out.