How to better organize your classical music in iTunes 12.5
New Work and Movement tags put iTunes in the right direction for organizing classical music.
As a classical music listener with a large iTunes library, I have long lamented the way iTunes manages this type of music. iTunes considers every track to be a "song," and as classical music fans know, this isn't always the case. Sure, some classical music can be classified as songs: opera arias, lieder, and art songs. But the majority of this genre's music doesn't fit that name.
In addition, while you might want to listen to your Miles Davis or Bob Dylan collection in shuffle mode, you almost certainly don't want to listen to, say, the different movements of Mozart's piano concertos in random order.
Apple has added some new tags to iTunes 12.5 in order to help users organize classical music. They are the Work (work name), Movement (movement number), and Name (movement name) tags. If you select one or more tracks in iTunes, then press Command-I, you can check Use Work and Movement to make these tags visible.
When you check this option, you see that the Name tag—the one for the track name—goes away, and is replaced by these three new tags you can use for classical works. This is a big advance, but not without problems.
An example: my favorite recording of Charles Ives's Concord Sonata, or, to use its full name, Piano Sonata No. 2, Concord, Mass., 1840–60. Here's how the files look now in my iTunes library:


Here's the tracks of this work using standard tags.
To label this work with the new tags, I've selected the tracks, checked the appropriate option, and entered the work name.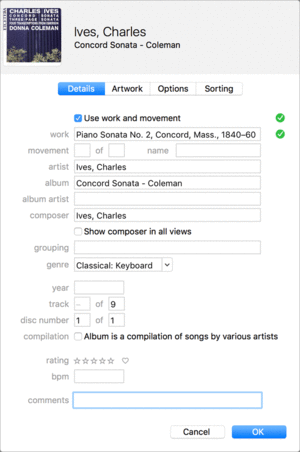 Add the Work name to a set of tracks, then click OK.
When I click OK, iTunes changes the display of this work (here in list view):

iTunes now only displays the Work name for each track.
iTunes only displays the work name for each track, and you need to enter movement names. The problem now is that if you select a track and press Command-I, you won't see the movement name any more. You either need to remember them, check on a CD, or click the Work Name popup and switch to Song to see the track's name; you can copy it from there, switch back, and paste it in the Name tag.
This is a cumbersome process, and I think iTunes should automatically add the (Song) Name tag to the (Movement) Name tag instead of leaving it blank. (Note that if you're ripping a CD, you can change most tags before starting the rip. But you can only apply the Work tag; you need to enter the Movement and Name tags after you've ripped the files.)