How to back up your contacts on your iPhone and Mac
When it comes to backing up your address book data, you have a few options.
On iOS, go to Settings > iCloud, then switch the Contacts toggle to the "on" position (it'll turn green).
Using services like Gmail, Yahoo Mail, and Outlook
Apple has a clear self-interest in steering you toward using iCloud, but Apple's service isn't the only option you have to storing, managing, and syncing your contacts across devices: Google, Mircosoft, and others offer tools that let you manage and store your address book. Sadly, none of these services work quite as seamlessly on iOS as iCloud does.
While all three companies offer iOS apps for their respective email services, not one provides a full-fledged contact-management tool for iOS: You either have to use your email provider's website or use Apple's built-in Contacts and Phone apps to manage your data.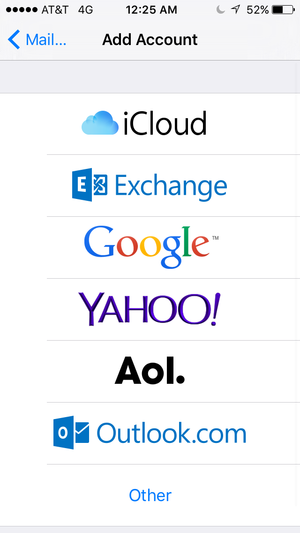 iOS supports a number of popular email and contact-management services.
To set up your iPhone's Contacts and Phone apps to work with any of these services, go to the Settings app, then tap Mail, Contacts, Calendars. Tap Add Account located under the Accounts subheading, then tap the appropriate service (Google, Outlook, Yahoo, and so on). Next, follow the onscreen prompts to log into your account—the process varies slightly depending on the service, but it's pretty straightforward regardless.
Setting up the Contacts app to work with your contacts service is similarly straightforward: Open System Preferences, then select Internet Accounts. Pick the service you want to use, then follow the onscreen instructions to set it up.
In terms of third-party apps, the Mac offers a little more flexibility, so you aren't stuck with Web interfaces or OS X's bundled apps. Microsoft Outlook for OS X lets you manage your contacts in addition to calendars and email, and like Outlook for iOS, it works with a wide variety of services. It also isn't the only third-party option available for OS X.
If you'd like to try something new, BusyContacts ($50, Mac App Store) is one option worth looking in to. It is a $50 application, however, so it may be a little steep for some users, but it might be worth a look if you need something more powerful.
Managing multiple accounts on iOS
Using multiple services to manage contacts on iOS is a bit cumbersome, so for the sake of simplicity, you'll probably want to pick one service and run with it.
If you already have multiple contact-sync services set up on your Mac or iOS devices–say, you use Gmail and iCloud—you can turn off the contacts feature on your devices. By doing so, however, you may have to delete some contact information from your device, so it's probably best to leave everything turned on.
Previous Page 1 2 3 4 Next Page