How to arrange and sort files in OS X El Capitan's Finder
Learn about the different ways the Finder arranges files and when you can access these options.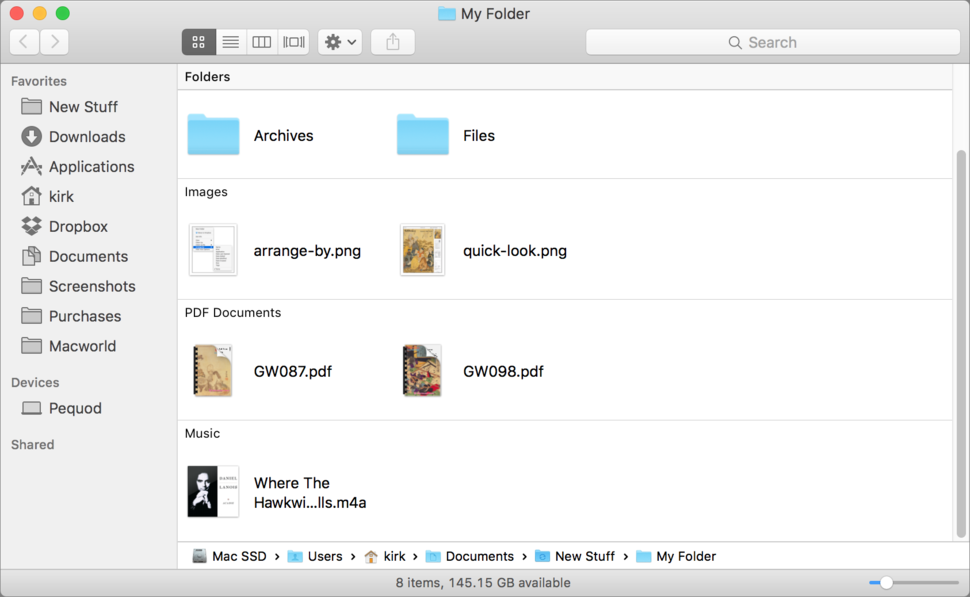 Here's what files look like in a Finder window were Arrange By Kind is selected.
Once you've organized files into groups with Arrange By, hold down the Option key and Control-click in the Finder window again. The Arrange By option in the contextual menu changes to Sort By. That lets you sort files within groups. So, for example, if you've arranged files by Kind, you can use Sort By to array them within each group by name. The Sort By menu doesn't offer all of the same options as Arrange By; you can't sort by Application. If you arrange by None, you can still use Sort By to arrange the window as a whole.
The contextual menu isn't the only way to invoke Arrange By and Sort By. You can also: select View > Arrange By; click on the Arrange By button in the Finder toolbar (if it's there); select Arrange By from the Action menu in that toolbar (again, if that button is visible); or open the View Options palette (which itself can be done in several ways, the easiest of which is pressing Command-J). In many of those cases, the Option-key trick still works, changing Arrange By to Sort By.
Some folders have special Arrange By and Sort By criteria. For example, in the Applications folder you can arrange apps by Application Category (Productivity, Games, Social Networking, etc.). These categories are inherited from the Mac App Store; if you have apps from some other source, they'll all be lumped in Other.
If you arrange icons by Name or None, you also get a Clean Up By option in the context menu (and elsewhere). This sorts your icons by whatever criteria you wish (Name, Kind, Date Modified, Date Created, Size, or Label), but you can then move the icons around within the view; when you Arrange By, you can't move the icons. Clean Up By is also a one-time action; if you add new files to that folder, their icons won't follow your Clean Up By arrangement. If you choose Arrange By, new files you add to that folder will be automatically placed into the appropriate group. The simple Clean Up option just moves file icons into a grid, with no organization. This can be especially useful on your Desktop, if you save a lot of files there, and haven't set an Arrange By option.
List, Column, and Cover Flow


The View Options palette.
As in Icon view, you can use Arrange By to sort files and folders into groups in List and Column views. But those groups are more compact and easier to use than they are in Icon view, especially when you're viewing a lot of files. Files appear in vertical columns, not horizontal rows, so there's no side-scrolling required. However, if a list or column extends below the bottom of the window, you can't use the contextual menu to access Arrange By or Sort By (because there's no empty screen space); you'll have to use one of the (many) other options.