How Slack and Hipchat made collaboration cool in 2015
Buoyed by consumerisation, Slack and Atlassian rose to prominence in 2015. CIOs, as well as executive for both vendors, discuss why everyone suddenly wants to collaborate.
R/GA has also connected its Atlassian Jira and Confluence applications to track incidents and documents within Slack. Validating the importance of building out a platform ecosystem, Slack last week announced $80 million investment fund for developers who are building apps that integrate with its software.
Coronges says that while software developers live in Slack, non-technical workers have also embraced the platform. The last thing he wanted to do was create more unwelcome noise by adding another tool to the corporate kit. "I'm very sensitive to the fact that if you roll out another tool you want to be confident that it's going to work and that adoption is going to be good," he says. "Slack is doing a really good job as positioning itself as a No. 1 or No. 2 tool to the business."
Atlassian has built up enough credibility among the enterprise — 85 of the Fortune 500 are using it — that CIOs are influencing their peers to use its software, often selling them on its superior support for continuous delivery and integration as part of the burgeoning DevOps movement. "The key thing for any DevOps movement is reducing the amount of friction between the various functions and because Jira is so tightly integrated it's almost second nature to the way that the engineers and [quality assurance] testers work," says Splunk CIO Declan Morris.
He says the entire Splunk's product suite was well embedded in the company's business processes when he joined the company in 2013. Splunk has integrated Jira with its Salesforce.com software to make issue resolution more efficient. "That allows us to better serve the customer," Morris says.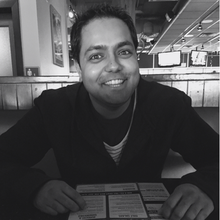 Jee Grover, director of global technology services at Atlassian
Global Health Exchange sunsetted software from Oracle, Microsoft and others to standardize on Atlassian's platforms, says Jee Grover, director of global technology services. The company, which processes hospitals' surgical supply orders, uses Jira, Confluence and Hipchat to track customer issues, plan IT projects and develop software. But it's not just an IT tool for GHX. Human resources uses it to onboard employees, while the sales team can pore over customer contracts in the software. The tight integration between the products ensures that projects and tasks don't fall through the cracks. "Our software had grown outdated and our skill set [to run it] had gotten stale," Grover says. "We needed more efficiencies."
Slack, Atlassian capitalize on consumerization
Customers are clearly excited about Slack and Atlassian, something both vendors say has been the keys to their success. In a corporate collaboration software market dominated by Microsoft, Cisco Systems and a handful of others, these companies count on collegial word-of-mouth, spreading from, say IT to sales and marketing, or vice versa. Like Box and several other young companies, Slack and Atlassian are riding the crest of the consumerization wave.
Previous Page 1 2 3 4 Next Page