How Microsoft is using live data to redefine the Office 'document'
No more versions. No more updates. Microsoft is building a dynamic document model where content changes as data changes—and the results can be stunningly visual.
"It is the beginning of a conversation with PowerBI," Netz said, as he input a query into the search box.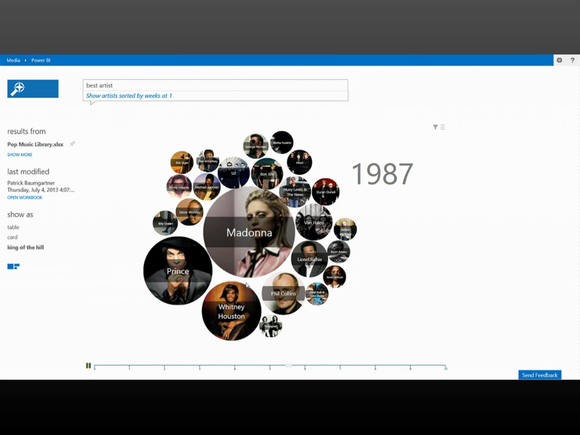 MICROSOFT. Madonna ruled 1987 in this "king of the hill" visualization.
Queries, not documents?
If Microsoft's vision takes hold, static documents loaded with static data will seem increasingly irrelevant as time goes by. Imagine a PDF from your travel agency that answers the basic question, "What are the best countries for me to visit in Europe and the Middle East for a summer vacation?" In today's version of the document, the answers are fixed. But we should be able to ask that query at any time, and receive answers that reflect a multitude of variables—exchange rates, hotel availability, weather, and political stability.
We already live in a world where the living Web and other information sources dynamically respond to changing conditions. Take, for example, the Max tool from Netflix, which asks you questions to determine which movie you want to view. The Netflix database constantly updates itself with new movie titles, and uses information gleaned from everyone's user searches to make other recommendations.
So at what point will traditional Office "documents"—spreadsheets, Word documents, and the like—begin to go away, victims of their own irrelevance? We don't need to store Word documents that list the 20 bands that have the most number one hits, because that information is already stored in a database somewhere. But we will store our own analyses that machines can't provide: the fable of Beowulf and Grendel analyzed in a historical context, for example.
If Microsoft's vision of live, connected files becomes reality, the document of tomorrow could evolve into a framework, a predefined query. We may not know what the 100 highest-grossing movies of 2010 through 2020 will be, but we can create a document that's preformatted to access that information—and to do so in a way that will let us quickly determine whether a sequel is primed for box-office success.
If that happens, seemingly disparate technologies—Office, Bing, and Azure—will become more closely tied to one another. And what we mean by "documents" will move far beyond today's traditional definition.
As a result, live data sources will serve as increasingly tangible barriers that prevent data from migrating off of Office to other platforms. Indeed, while Google Apps and Apple's iWork might let you open Microsoft's PowerPoint format, you may not find the same level of support for Microsoft's highly involved living-data technologies. For business users, at least, it may pay to remain under Microsoft's umbrella.
Previous Page 1 2 3