How Microsoft is using live data to redefine the Office 'document'
No more versions. No more updates. Microsoft is building a dynamic document model where content changes as data changes—and the results can be stunningly visual.
At Microsoft's Build 2013 conference, Gurdeep Singh Pall, corporate vice president for Microsoft's Information Platform & Experience group, announced "Bing as a platform," taking what we know as Microsoft's search engine, and making it available to developers as a third-party API. "The unbounded knowledge of the Web is now available to your applications," Pall said.
One of the tricks Microsoft executives showed was the capability to scan a block of text for keywords—such as "Valencia, Spain"—and hotlink the text to Bing-curated data. It exemplified how we might take an otherwise static document and enrich it with the Web at large.
What 'business intelligence' actually means
This past March, Microsoft launched a preview of its Data Explorer tool, which allowed users to pull data from various sources and put it into Excel documents. For example, you could tell Excel to pull a compilation of credit card complaints from data.gov, or to pull a list of World Cup winners from a Wikipedia article. By itself, that capability wasn't terribly exciting.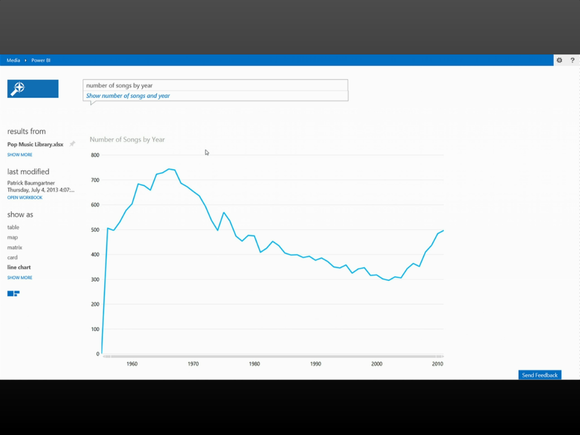 MICROSOFT. The number of songs we listen to and purchase has declined, data reveals.
But on Monday, Microsoft renamed Data Explorer as "Power Query," and surrounded it with a number of equally robust tools: Power Map for geolocating data; Power Pivot for flexible data models within Excel; and Power View, which allows Excel to parse data itself and to attempt to present the most relevant views automatically. Microsoft has also developed a number of BI "live sites" where customers can interact and share data.
Microsoft corporate fellow Amir Netz did a wonderful job of putting it all in context. (Netz's presentation is archived here; fast-forward to 4:03:05 for the BI demo.) In a demonstration that used a database of popular music as an example, Netz typed in "top rock classics" as a query. The responses were automatically sorted into a track list from the 1970s and 1980s, cross-indexed by the number of weeks each song appeared on the chart. Highlighting certain words auto-suggested other choices. Highlighting "songs," for example, suggested a list of "albums" with the same characteristics, providing avenues for further exploration.
"When I typed 'top rock classics,' it understood I meant rock," Netz said. "And when I said 'classics,' it understood that I meant music from a certain era—the '70s and the '80s—and not the 1950s."
Asking for the number of songs by year automatically generated a line graph tracking how the number of popular songs people listened to decreased between 1970 and 2000. Netz finished up by asking PowerBI to determine the best song of all time (Jason Mraz's "I'm Yours") and the best artist of all time (Mariah Carey). This assessment was based on what the database "knew" about each artist. Netz finished with a "king of the hill" visualization that tracked which artist dominated during which year.