High technology: How IT is fueling the budding cannabis industry
From APIs to dispensary robots, new innovations are popping up like weeds
Those are important steps because eventually, cannabis will become a commodity, said Green Lion's Bologna. When that happens, success will favor those tapping efficiency-boosting best practices and tools already commonplace in the rest of the business world.
"A lot of people like to put us in our own bucket, but we are starting to use all the standard tools," Bologna said.
That's definitely the case at GreenRush, an e-commerce platform for medical marijuana delivery. GreenRush partners with local U.S. dispensaries and delivery services and helps them acquire customers through its online platform.
"We're like the GrubHub of the medical marijuana industry," said Paul Warshaw, GreenRush's founder and CEO.
Customers who land on the site can browse dispensaries and products; with a verified medical marijuana card, they can order products for delivery by a dispensary near them. California-based shoppers who don't have a medical marijuana card can even consult with a doctor via GreenRush's telemedicine platform and get approved for one on the spot.
Though much of GreenRush's technology was built in-house, the company has tapped a number of common tools to propel its business. A partnership with Salesforce, for instance, helps with sales management and customer support.
"We're a sales organization," Warshaw explained. "Everything starts with outreach to the dispensaries."
The company has also integrated with DocuSign for its membership agreements, MailChimp for e-mail marketing, and Slack for communication with dispensary partners.
"It's great that people are building technologies specifically for cannabis, but there are awesome platforms already out there that can help make your business so much more efficient and transparent," Warshaw said.
As the industry matures, that kind of fine-tuning may become an imperative.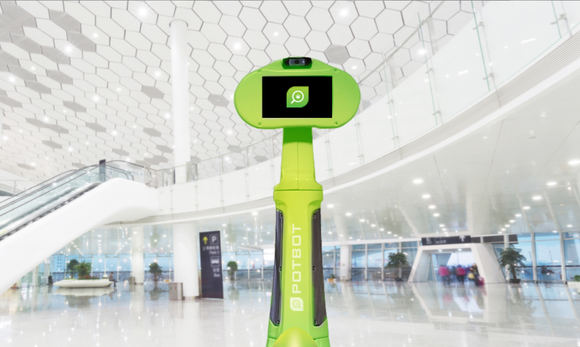 PotBotics bills its PotBot as 'the world's first virtual budtender.'
Owing in part to the high prices set during the industry's black-market days, more than 80 percent of the businesses that get started in the legal cannabis industry break even within a year, said Leslie Bocskor, founder and president of Electrum Partners, an advisory firm focused on the industry.
Such rapid profitability is "unheard of," Bocskor said.
It also poses what may be one of the industry's biggest challenges in the days ahead.
"High margins can cover up a lot of mistakes," Bocskor said. "Businesses can't get comfortable -- they need to start using best practices regardless of their profitability, and technology is a big part of that."
Banking remains another obstacle for many in the industry, as financial services firms remain skittish about serving cannabis-based businesses.
"The average cannabis business can't bank like a normal one would," GreenRush's Warshaw said. "Not everybody wants to work with you."
There can even be issues for cannabis companies trying to advertise on sites like Google or Facebook, or to make apps available online. "Things you wouldn't think of are challenges that we have to overcome," Warshaw said.
Previous Page 1 2 3 4 Next Page