Here's how the MacBook Pro stacks up against the PC
Surprise: The PC is still well ahead of the MacBook
Because no one has actually seen these GPUs, it's hard to say how fast they will be. That doesn't mean I can't try to guess. Apple said the new MacBook Pro 15 is 60 percent faster in gaming performance than the previous-gen laptop, which has a Radeon R9 M370X.
Taking the performance of that laptop (from a review by Notebookcheck.net) and adding roughly 60 percent, we can see how the new MacBook Pro stacks up against the current crop of PCs.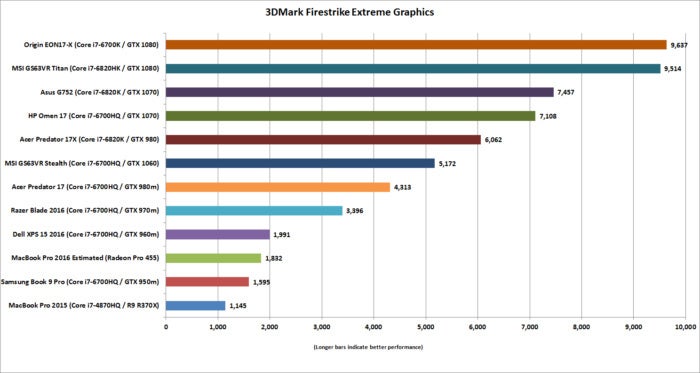 If the new MacBook Pro 15 with its Radeon Pro 455 is 60 percent faster than the last-gen MBP 15, here's how it would stack up against PCs.
There are a lot of limitations to the estimated performance here. First, what exactly does Apple mean by "60 percent faster in gaming"? Is it in a certain game? Would the performance be worse or better in this one particular benchmark?
Still, don't expect the results to change much when we see the real deal. The best the MacBook Pro 15 could really hope to do is break even with the 1.3-teraflop GeForce GTX 960M. At least the Radeon Pro 455 does it while using almost half the power of the GTX 960M, but if you're hoping for more raw horsepower, it won't be there.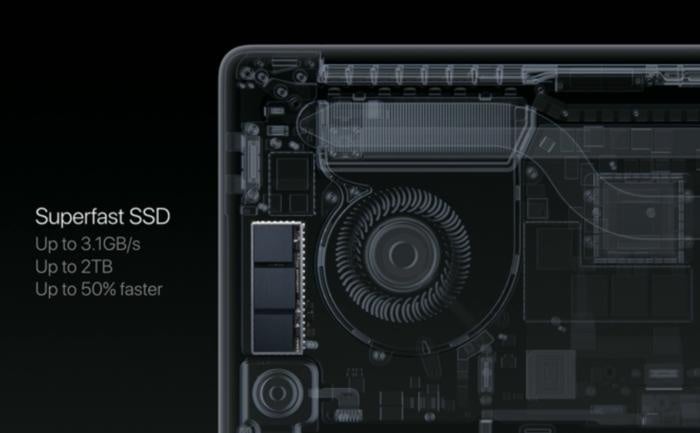 Did Apple just kill your ability to upgrade the SSD? If those chips are soldered to the motherboard it did.
In pure performance, the new $2,800 MacBook Pro might be a little faster in CPU loads and break even in GPU loads compared to a Dell XPS 15, which came out nine months ago and costs basically $1,400. That particular Dell, of course, has a plain old 1920x1080 screen and an SSD half the size of the MacBook Pro's, but in performance they might be the same. Throw in a 4K panel, larger battery, and SSD, and the Dell would still be cheaper.
The problem for the MacBook Pro 15 is its weight class. At 4 pounds, it's fair to compare it to the 4.1-pound MSI GS63VR Stealth laptop. Our review of the MSI is imminent, but it packs a quad-core Skylake CPU, 4K screen, 16GB of DDR4 RAM, 512GB SSD, 1TB hard drive, and a GeForce GTX 1060 card.
Again, I don't know how that Radeon Pro 455 will do, but glance up at the 4-pound MSI GS63VR on that benchmark chart and you can expect it to just about murder the MacBook Pro 15 in graphics performance.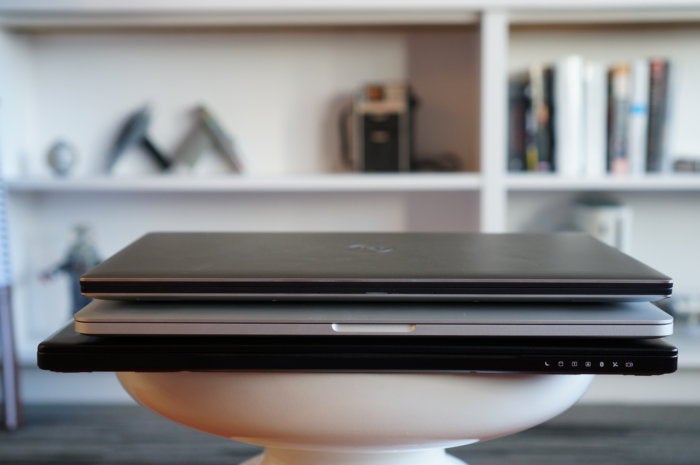 Here's a Dell XPS 15 (top), last-gen MacBook Pro 15 (middle), and an MSI GS63VR Stealth (bottom). All weigh just about the same.
Previous Page 1 2 3 4 Next Page