Hands-on with the new Photos features in macOS Sierra and iOS 10
Photos gets a minor refresh, but it's significant for finding people and other searching.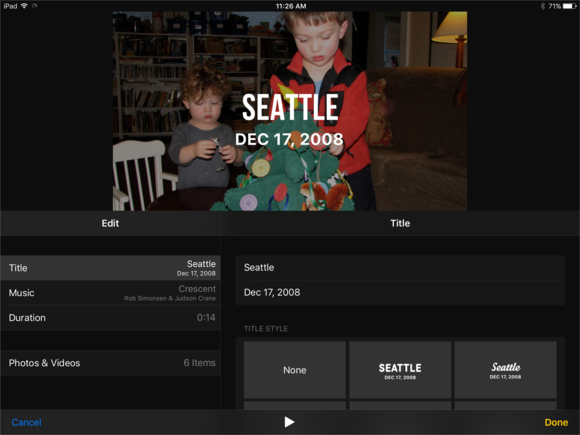 The movie-editing interface in iOS 10 for Memories has a lot more options than the macOS version.
You can change the music that goes along with a memory as you would with a slideshow. In macOS, it's an option when you click the Play button: you can select existing themes and pick music from iTunes. In iOS, it's a little more involved: tap the play button, then tap the movie, and then tap the Details button in the lower right. This brings up a very elaborate editing window for title, music selection, duration, and title style.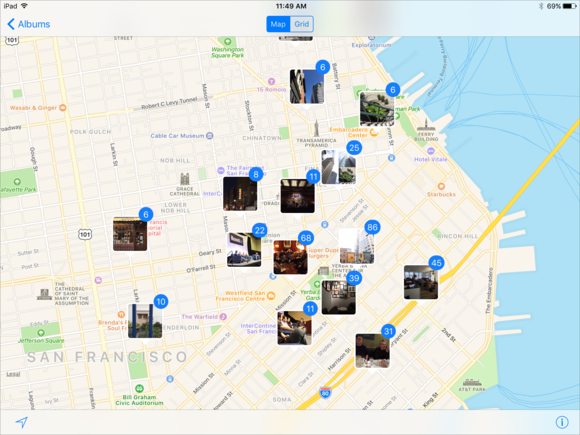 Places groups photos by the level of magnification on a map.
Places
Stepping up its geographical game, Photos now does a vastly better job of showing where photos were taken that have geotag information, and provides a more appealing interface for looking around. In nearly every collected view, Places appears as a section if any media is geotagged.
Places appears as an album, and it seems to zoom in by default to where most of your photos are taken; for me, that's the continental United States. Based on zoom level, Places organizes images into groups. For instance, I have 905 images marked for the entire state of California. Tap a group, and it reveals all the photos, sorted into moments.
But if you zoom in or out, the groups change based on granularity. The closer you zoom, the more groupings you see, all the way down to a close street view. In macOS only (as in previous versions of Photos), you can reset a location for a photo or video by selecting one or more items, clicking the i button in the upper right, and then dragging the pin on the map to a new place.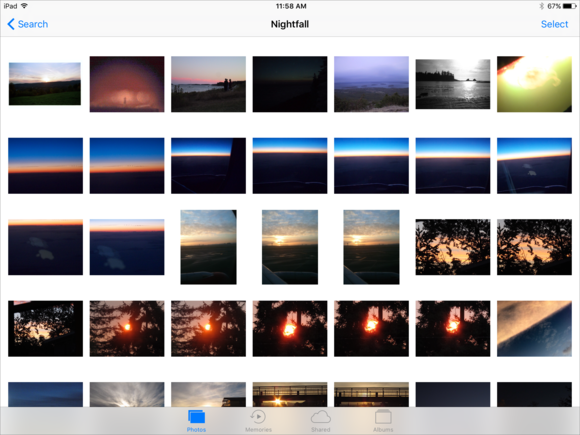 Photos did a fabulous job of finding images of "nightfall."
Better search
Search has certainly been the weakest aspect of Photos in iOS and macOS, and Apple has lagged significantly as competitors, using cloud-based photo analysis, added whizbang matching. Google Photos, which I started using not long after its introduction, has nearly terrifyingly accurate matching of people across ages, haircuts, and expressions. It also has the sense to interpret dates correctly.
iOS 10 and macOS Sierra come a lot closer to Google Photos, and finally present decent ways to find images. Keywords you enter can be matched against people's names, facial expressions, place names, titles generated or assigned to memories, objects, and elements in a scene, as well as the more conventional words in titles, file names, dates, description, and other text metadata.
Previous Page 1 2 3 4 5 6 Next Page