Hands-on with the new Photos features in macOS Sierra and iOS 10
Photos gets a minor refresh, but it's significant for finding people and other searching.
In macOS Sierra:
Double-click the person in the People album.
Select one or more images; click Show All to show all of them. Click the Faces button if you want to just see the identified face in the image.
Right-click to select This Person Is Not In This Photo.
Favorites. You can put favorite faces at the top by dragging them into the Favorites area. In iOS, tap Select in the upper right, select one or more faces, and then tap Favorite at the bottom middle. In macOS, select one or more faces, and then right-click to choose Favorite from the menu.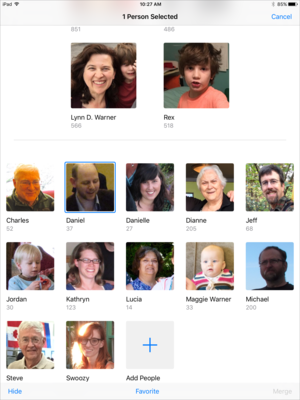 The People album is organized into favorites at the top and other people below; so-called "hidden" faces appear (or can be hidden) even lower
Hide. Too many faces in the People album? You can hide them selectively! In iOS 10, tap the Select button at upper right, select one or more faces, and then tap Hide at lower right. In macOS, select one or more faces, and then right-click to choose Hide from the menu. The hidden faces are below Favorites and the rest of the faces. Tap or click Show Less to hide the hidden faces or Show Hidden Faces to display them. You can also tap or click Show Favorites to hide everything but favorites; tap or click Show All to display the other faces again.
Memories
Memories is my favorite new feature in Photos, but it also reveals some of the odd and amusing limitations with AI learning algorithms. In some slideshows it creates, blurry images and strange close-ups of objects seem to dominate. In others, the results aren't far off from what I might have put together myself. In yet others, interesting associations I wouldn't have made are brought together. It's a work in progress that should get better.
Tap the Memories button in Photos in iOS or click the Memories link in the sidebar in macOS, and Photos lists all the self-assembled memories that it "thinks" are most important. These memories include both photos and videos.
However, Memories are not entirely gathered in this view, but also scattered around Photos (or at least in the current beta). The Related area in any view that has it, such as the People album or at the bottom of any Memories item, shows additional potential Memories. You can tap or click those, and then scroll or swipe to the bottom to tap Add to Memories to have them appear. This kind of select is a form of training. In the Memories view, you can tap and hold down or right-click to remove a memory or add it to favorites, which trains the system further.
Previous Page 1 2 3 4 5 6 Next Page