Hands-on with the new Photos features in macOS Sierra and iOS 10
Photos gets a minor refresh, but it's significant for finding people and other searching.
If you want to see the face matched in each photo, tap Select at upper right and then tap Show Faces at upper left in iOS 10, or click the Faces button at upper right in macOS.
Scroll or swipe down, and a People section shows all the other people matched in the same photo; Places shows the images on a map; and Related matches against Memories.
At the very bottom, you can favorite or unfavorite a person, but also tap or click the very hidden Confirm Additional Photos option. This brings up additional potential matches for the person you're viewing, something which was front and center in the earlier Faces technology used in Photos and iPhoto.
Pick the key face. You probably don't want the default selected facial image to identify a person—in my testing, it's almost always a peculiar one. In iOS 10, tap a person in the People album, tap Select in the upper right, select a single photo in the Photos list, tap the Share button, and then tap Set Key Face.
In macOS Sierra, double-click a person in the People album, and then right-click a photo to select Make Key Face.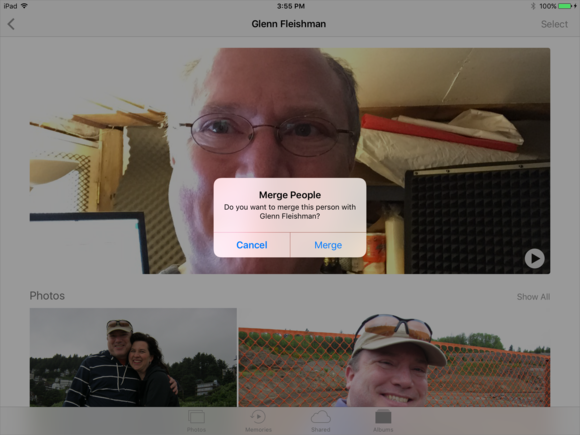 Merging faces collapses multiple sets into a single one.
Merge. Photos offers a couple of ways to merge separately identified faces.
Whenever you add a name to an identified face, if you've already used that name, you'll be prompted to merge. Agreeing will combine those sets.
In the People Album in iOS, tap Select in the upper right, select two or more faces, and then tap Merge at the lower right.
In the People Album in macOS, select two or more faces, and then right-click to bring up a Merge item in the menu.
Tap or click Add People, and you can select multiple faces and then tap Merge, at which point you're prompted to Merge & Add, which collapse the sets and puts the face in the main People album.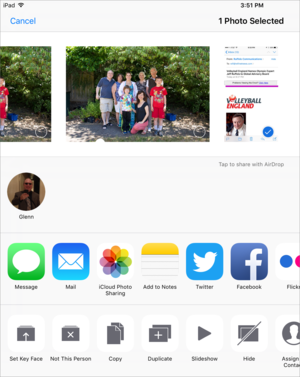 Removing an incorrect face match is a bit awkward in iOS 10.
Remove photos from a faces set. Apple's chosen a slightly awkward way to remove people.
In iOS 10:
Select the face in the People album to open it.
Optionally, to the right of the Photos label, tap Show All.
Tap Select in the upper-right corner. You can then optionally tap Show Faces in the upper-left corner to zoom in on just what Photos is "looking" at.
Tap one or more photos to select.
Tap the Share button.
Tap Not This Person to remove those photos from the matched set.
Previous Page 1 2 3 4 5 6 Next Page