Hands-on with the new Photos features in macOS Sierra and iOS 10
Photos gets a minor refresh, but it's significant for finding people and other searching.
The faces interface is nearly identical between iOS and macOS, and I'll walk through what you can do with it. As soon as Photos starts identifying people, a People album appears that you can select. Even while it's still churning away, you can tap View People Album to show the results so far.
Note one convention that may be confusing because the interaction is otherwise so similar between the two operating systems: in iOS, toggle the selection of an item in a set by tapping it; in macOS Sierra, use the Command key to add or remove items from a selection.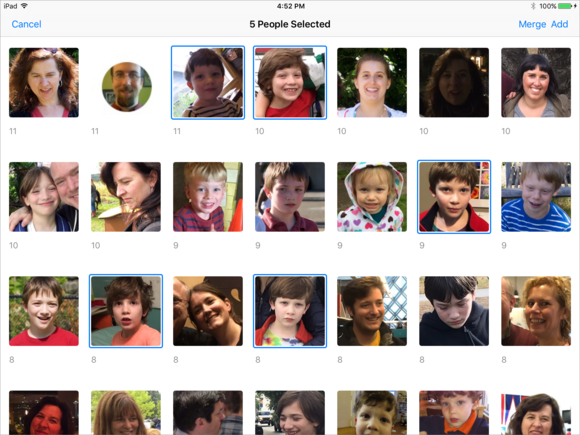 The Select People view lets you add people to the main People album, but you can also merge faces before adding.
Add People. By some criteria I can't tell yet, some faces will appear on the album's main page, and some only when you tap an Add People button. You can merge faces in the Select People view that appears, but you can't name them. For that, you have to select one or more faces and then tap or click Add.
Labeling. From the main Photos Album view, you can tap or click any unnamed face to name it; in macOS, you can also click the Add Name gray item to type the name in there. Tap or click Add Name in the face view, and then, as you type, Photos autocompletes potential matches. If the person isn't in your contacts, you can type in the name, but there's no way to indicate you're done either in iOS or macOS. Just tap or click elsewhere or return to the main People album, and the name is retained.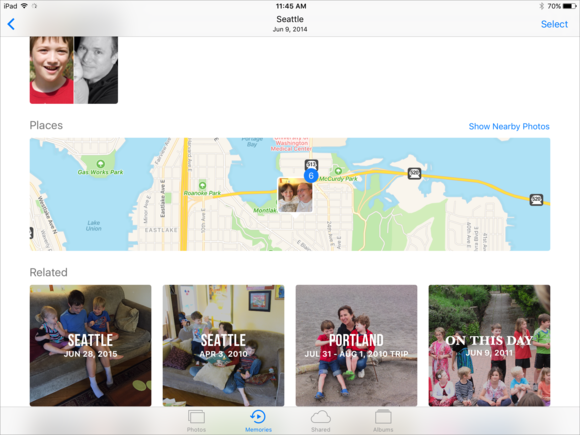 The bottom section of each person's view has faces of other people in the photos, places the photos were taken, and related Memories.
View People. You can view all the photos in a set for a person by tapping or double-clicking the face in the People album. At the top, you see an automatically slowly-playing slideshow of the photos in that set. Photos default view then shows an artistically arranged album below that, which comprises a subset of all matched images. You can tap or click Show All to see every image matched for that person.
The automatic slideshow at the top can also be played as a full-screen movie with music, a la Memories. In iOS 10, there's a play button overlaid on the image when you hover over; in macOS, click the Play button in the menu bar, then click Play Slideshow. This quasi-movie can even be added to Memories by tapping or clicking Add to Memories at the bottom of the person view. In iOS, you can also play the movie and tap the Details button, at which point you're prompted to add it to Memories in order to edit it.
Previous Page 1 2 3 4 5 6 Next Page