Hands-on with OS X Mavericks: Safari and iCloud Keychain
Sure, Safari is its own app, but new OS X versions tend to bring new versions of Safari, and Mavericks is no exception. Safari 7 offers a new sidebar, plug-in management, a redesigned Top Sites page, performance improvements, and a new feature designed to remember your passwords without compromising security.
The feature lives in the Security tab of Safari's preferences window, under the Manage Website Settings button. From here you can see every browser plug-in being used by your system and a list of sites that have loaded it. You can turn access on and off on a per-site basis, as well as set a default for what happens on your first visit to a website that's trying to load a plug-in. For example, you can set YouTube to always load Flash, but all other sites to block Flash on first load.
Safari's also got a Power Saver feature that will sometimes prevent plug-ins from loading until you click, emulating ClickToPlugin's approach. I wish that Safari went further, though, and allowed the Manage Websites Settings option to set certain plug-ins to only load on a click, somewhere between a pure block and actually loading the plug-in.
And when Safari's blocking a plug-in, the browser replaces the space occupied by the plug-in with an empty box. This happens because Safari's reporting to the web server that it has the plug-in, but doesn't show the content. Some sites offer non-Flash equivalents if a device (such as an iPhone or iPad) doesn't have Flash, but Safari doesn't see those if Flash is installed but disabled.
iCloud Keychain arrives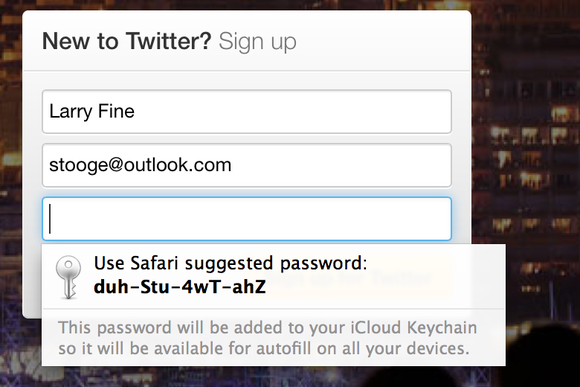 I've been a user of1Passwordfor a few years now, and I love it. I remember a single password, and 1Password remembers my passwords, personal information, credit-card numbers, and enters them into my web browser when I tell it to.
The moment the new Mavericks feature called iCloud Keychain was announced, plenty of wags (probably including me) suggested that Apple had "Sherlocked" 1Password. I'm not sure I agree with that; iCloud Keychain does some, but not all, of what 1Password does. In typical Apple fashion, it will probably satisfy a large group of casual users while the more advanced users turn up their noses and continue to use 1Password instead.
In any event, iCloud Keychain stores your passwords, credit-card numbers, and personal contact information and syncs them between devices running Mavericks or the also-forthcoming iOS 7. Since it's all synced via iCloud, it should all stay in sync, so if you save a password on your Mac, it'll be there when you next visit that site on your iPad. Pretty cool. (This is an optional feature--nobody's forcing you to put your stuff in the cloud. You turn it on by checking the Keychain box in the iCloud system-preference pane.)
Apple's got some major advantages over utilities like 1Password, in that it can integrate directly in the browser (rather than via an extension) on the Mac. Passwords and user names fill in automatically when you visit a page, so you don't have to click around like you do with 1Password. On iOS, the situation is even starker, since there are no such things as iOS browser extensions. 1Password is, as a result, a lot less convenient on iOS--and presumably iCloud Keychain will work seamlessly inside of Safari on iOS.
Previous Page 1 2 3 4 5 Next Page