Hands-on with OS X Mavericks: Safari and iCloud Keychain
Sure, Safari is its own app, but new OS X versions tend to bring new versions of Safari, and Mavericks is no exception. Safari 7 offers a new sidebar, plug-in management, a redesigned Top Sites page, performance improvements, and a new feature designed to remember your passwords without compromising security.
Shared Links is a great idea, and I've been using it a lot. I am one of those people who uses Twitter as a source for many of my links. That's not to say there aren't issues: The light-gray-text-on-darker-gray-background color scheme makes the text of individual posts hard to read, and there are no timestamps. You also can't "pull to refresh" in order to see new posts, à la Twitter's own client app, and Safari itself doesn't appear to update content rapidly. If I want to see new links, I need to open and close the Sidebar or choose Update Shared Links from the View menu. It's also too bad that Facebook links aren't an option, though given the junk littering my Facebook feed these days, maybe it's just as well?


Shared Links includes the source of the link at the top of the page.
Next to the Sidebar button is the Top Sites button, and of course there's a new version of the Top Sites interface, which presents you with six or 12 or 24 of your favorite sites in a grid. (It's now a proper Hollywood Squares/Brady Bunch style grid, with none of the curved-wall effects of the previous iteration of Top Sites.) I admit I never use Top Sites (my default window: Empty Page), but the look seems more modern and drag-and-drop reorganization of Top Sites items is a no-brainer addition.
Faster, lighter, safer?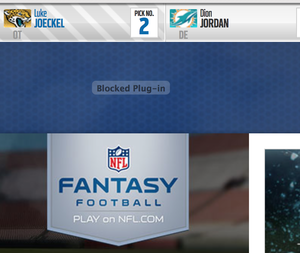 A blocked Flash element on a page.
When Apple unveiled Mavericks at WWDC, it said that it would deliver the fastest JavaScript experience around. The browser certainly feels fast, though when I ran the synthetic SunSpider benchmark it was slower than Chrome. However, it beat Chrome on the JSBench suite, which plays back real-world JavaScript functions. We'll see how performance is in the final, release version, but I'm optimistic.
Apple also says that Safari has a bunch of new under-the-hood features that improve speed, reliability, and security. Separate pages run in separate processes and there's improved memory efficiency, and the browser takes advantage of power-saving features of Mavericks to run more efficiently. I haven't been able to test any of these claims yet.
One major source of stability, speed, and energy-consumption issues in Safari isn't actually Safari itself--it's browser plug-ins such as Adobe Flash. Third-party tools like ClickToPlugin have let users manage whether webpages can load those plug-ins, and in Mavericks, Safari has a similar feature built right in.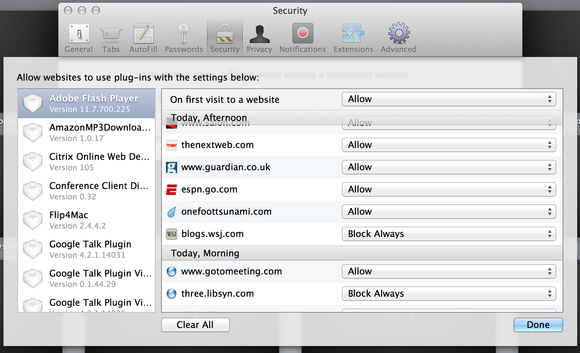 Set your plug-in preferences in the Security tab.
Previous Page 1 2 3 4 5 Next Page