Hands-on with OS X Mavericks: Safari and iCloud Keychain
Sure, Safari is its own app, but new OS X versions tend to bring new versions of Safari, and Mavericks is no exception. Safari 7 offers a new sidebar, plug-in management, a redesigned Top Sites page, performance improvements, and a new feature designed to remember your passwords without compromising security.
The second tab in the Sidebar is Reading List, and it's not that different from the Mountain Lion version. This is still the place where you can collect pages on the Web that you want to read at a later time, even if you're offline. The big difference in Safari 7 is that the Reading List scrolls endlessly. Once you're at the bottom of a Reading List story, just keep scrolling down and you'll be taken to the next story in the list.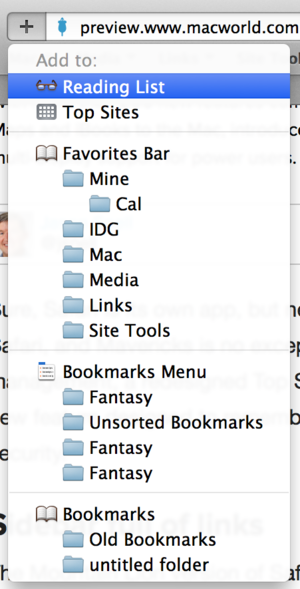 Hold down the plus button to quickly file away a page.
In previous iterations of Safari, there were toolbar buttons to add stories to Reading List and add links to your Bookmarks. In Mavericks, Safari no longer provides those buttons. Instead, there's a big plus (+) button integrated to the Address and Search bar, just to the left of the page's URL. Click the plus button to add the page you're on to Reading List; click and hold to see a menu of options, including adding the page to Reading List, Top Sites, or filing it as a bookmark in any of your bookmark folders.
Now to the third (and most interesting) addition to the Sidebar: the Shared Links tab. Once you've logged in to a Twitter or LinkedIn account via the Internet Accounts (formerly Mail, Contacts and Calendars) system preference pane, any posts that contain hyperlinks are displayed in the Shared Links list. If you truly use your Twitter stream as a replacement for RSS feeds, Shared Links is a concentrated burst of Twitter linkage that eliminates the middleman.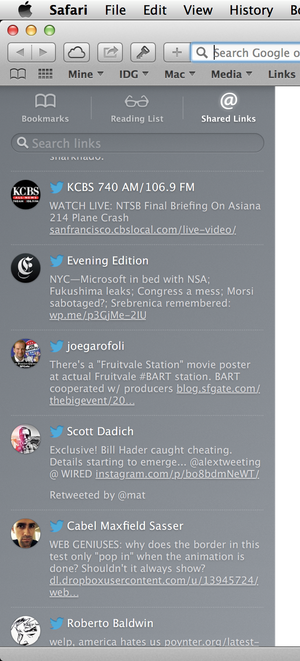 Shared Links in the Safari sidebar.
In the Shared Links sidebar, posts are displayed with the most recent item at the top. They aren't bare links, either--you see the avatar of the person who posted the link, their name, an icon representing the service the post came from (just Twitter or LinkedIn are supported at this point), and the text of the post itself. Click anywhere on the post to display it in the browser window, and like Reading List, if you keep scrolling to the bottom of the story, you'll be able to scroll right on to the next story in the list.
As you read a story, the original post that spawned it remains at the top of the screen, so you can quickly find the answer to the question, "Which one of my friends thought this was worth Tweeting about?" There's also a Retweet button, so if you do approve of the story, you can pass it on.
Previous Page 1 2 3 4 5 Next Page