Hands-on: Using CrossOver Android to run Windows apps on a Chromebook
Android app support in Chromebooks opens the door to Windows emulation, but that first step is a doozy.
Why the Windows loophole matters
In fairness, it's early days for CrossOver Android, so we can forgive the fact that many programs don't work. If Codeweavers were charging money for this software—as it does for the Mac and Linux versions of CrossOver—that'd be a different story.
But assuming Codeweavers can whip its Windows emulation into shape, it could be a big boost to folks who are on the fence about Chromebooks. While the Google Play Store already offers plenty of apps for productivity and file extraction (including mobile versions of WinZip and Office), some users still need particular features from the desktop version.
There are also plenty of Windows programs that don't have mobile versions at all. Personally, I can't get all my work done without LiveScribe, whose microphone-equipped pen lets me take interview notes with synced audio. It's the one program that prevents me from taking a Chromebook on work trips, which made its failure to run in CrossOver all the more tragic.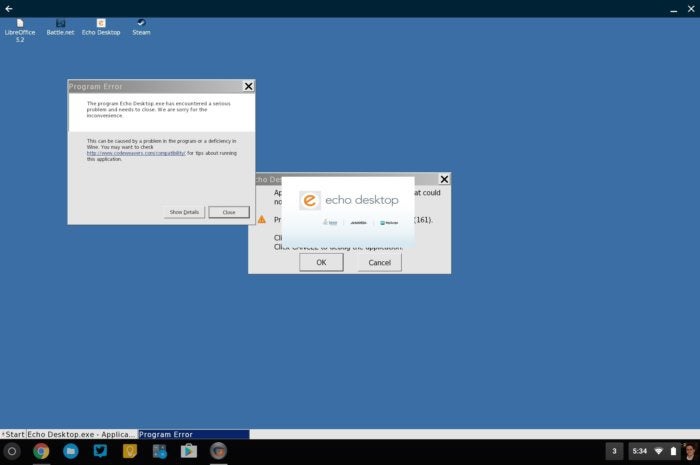 LiveScribe installed successfully, but crashes at launch every time.
Why not just use a Windows laptop ? The best thing about Chrome OS is that it doesn't have any of Windows' overhead and bad habits (like automatic restarts that wipe out all your work). The idea of a leaner operating system could be alluring if you spend the vast majority of your time in a web browser, especially if you can still call on the occasional Windows program when necessary.
The challenge for Codeweavers will be to support not just blockbuster programs like Photoshop and Office, but the kinds of niche applications that keep people bound to the Windows ecosystem. With that extra crutch, Chromebooks could become much more appealing.
Previous Page 1 2 3