Hands-on: Google Assistant's Allo chatbot outdoes Cortana, Siri as your digital pal
The chat UI works surprisingly well for a digital assistant.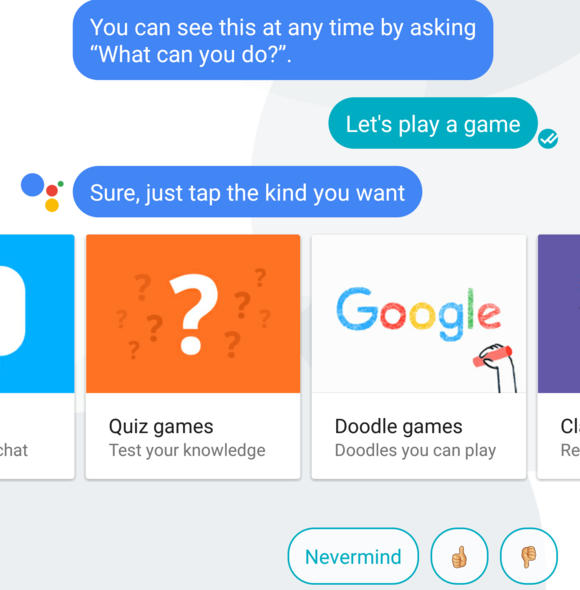 If there's more than one option, Google Assistant will use a tiled approach that extends outside the window.
Unlike Cortana and Siri, Google Assistant never speaks out loud—at least not yet. And while Cortana strikes me as a geeky, polite young woman, I've always thought Siri to be a bit standoffish. Google Assistant comes off as your stereotypical techie Millennial: punctuation's optional, emojis aren't, totally casual.
Where Google Assistant succeeds is in its ability to ask the follow-up question. Ask it what the tallest building in the world is, and it will correctly respond with a list of the tallest buildings in the world, also organized in a tiled carousel of pictures. A second or two later, up pops a number of suggested followup queries: What's the tallest thing in the world? How many floors does the Burj Khalifa have? Neither Cortana nor Siri encourage these sort of followup queries at all, and they're weaker for it.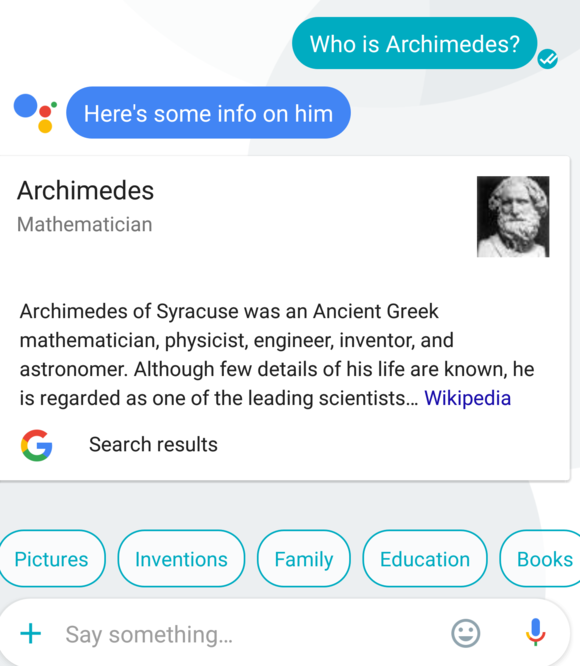 Of course, Google Assistant can be used for searching. But it's the additional topics that help you explore.
Google Assistant also treats your conversation as a chat log, allowing you to scroll up and review your earlier questions. Tap a response from a question you asked twenty minutes ago and Google Assistant will pick up where it left off. Meanwhile, Siri and Cortana suffer from short-term memory loss and tend to forget question soon after you ask them.
Some individual sections still need work. For some reason, all of my Google Assistant's Sports headlines were from the BBC, and what the BBC would call football. Cortana and Siri pull from a variety of topics, and Cortana will call out stories that match my interests.
After hours, it's time to play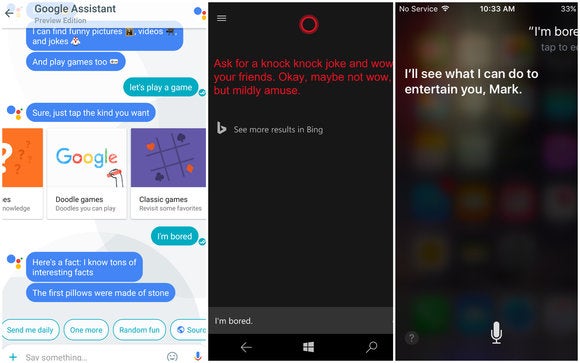 What saying "I'm bored" means to Google Assistant, Cortana, and Siri.
Let's face it: Siri can be kind of a jerk. Tell it "I'm bored" and it passively-aggressively responds, "I'll see what I can do to entertain you." Cortana suggests a knock-knock joke. Google Assistant is the buddy you're backpacking across Croatia with, helping you kill time before the bus arrives in an hour or two.
Google Assistant shines brightest in its unexpected integration of fun stuff you've seen before—namely, the playful Google Doodles that show up from time to time on the Google Web site. Want to play a synthesized theremin? Sure. How about solitaire? Yep, that's there too. You can ask for "random fun," and Google Assistant will begin suggesting a series of random facts and dad jokes to keep you amused, as well as funny videos.