Hands-on: Google Assistant's Allo chatbot outdoes Cortana, Siri as your digital pal
The chat UI works surprisingly well for a digital assistant.
Tucked within Google's unremarkable Allo messaging app is a real treasure: Google Assistant, which injects Google Now with an eager-to-please personality that finally provides the give-and-take other digital assistants lack.
We've always talked about Apple's Siri, Microsoft's Cortana, and Google Now as the three digital assistants from the top smartphone platforms. But the truth is that Google Now was little more than a series of informative cards, while Siri and Cortana preferred a text-based approach with a bit of sass. Google Assistant retains its visual approach, but within a messaging context that really nails it in how you interact with the app itself.
Google announced Google Assistant this past May, and the preview version of it is live in Allo, which itself can be used on Android 4.1 (Jelly Bean) on up. Google has said a more fully developed version will appear later in Google Home, Google's Amazon Echo competitor. Based on my limited time comparing it to Cortana and Siri, however, Google Assistant's integration within Allo makes it the assistant to beat. (Remember that Microsoft is betting on bots, too.)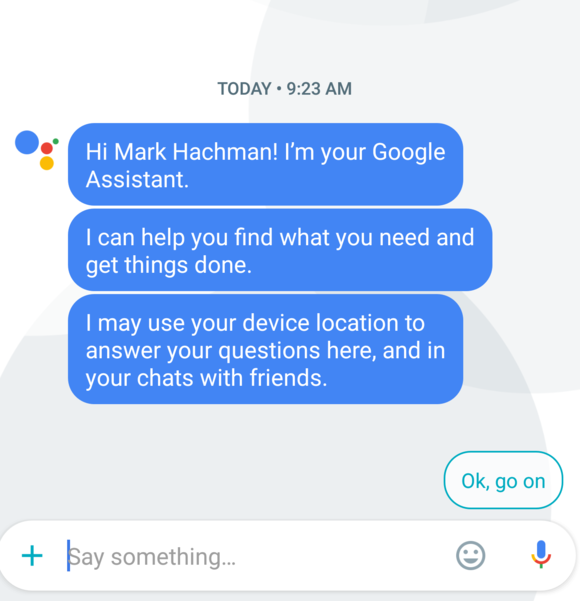 Google Assistant introduces itself via a text-based chat.
Unearthing Google Assistant within Allo
Our dedicated Android site, Greenbot, has an early look on how to download Allo, as well as some of its more specific messaging features. As you might expect, Google Assistant isn't a big believer in privacy. Google tied the app to my Android phone, asking for the expected permissions: the ability to access my contacts, record any spoken commands, and more. Google doesn't specifically call out Google Assistant with popups or explanatory video, but its colorfully bubbly logo appears at the top of the screen, quietly inviting you to use it.
That's a different approach than, say, Cortana, whose icon occasionally pops up from the bottom of your Windows 10 taskbar with a cheery greeting, unless you hide it. Apple's Siri is much more demure, hiding behind the iPhone's home key. Cortana, especially, aims to anticipate your every need, demanding your interests when you first use her and presenting your schedule when you click the icon. Google Now currently feels like your project manager, with Assistant acting as a gofer of sorts.
Google Assistant launches like a chatbot, introducing itself and (surprise!) asking for your location to personalize its results. (You may as well.) Once it does so, Assistant displays a tiled carousel menu of options that runs off the edge of the screen to the right: Travel, Games, News, Fun, Actions, Sports, Answers, and more. Each clickable tile includes a pair of suggestions to get you started.