Hands-on: CloudMagic for Mac brings effortless focus to your email
Fans of CloudMagic for iOS will fawn over this "distraction-free" Mac app, even if it lacks a key feature of the mobile version.
Speaking of the search bar, CloudMagic for Mac has decent search capabilities, especially if you allow it to access your Contacts, which helps auto-complete email addresses. If you have more than one email account, let's say your personal Gmail and work Exchange, you sometimes have to designate which account you'd like to search for CloudMagic to surface more accurate results.
Smart app integrations to come
The one key feature that is notably absent from CloudMagic for Mac is third-party app integrations. On CloudMagic for iOS you can activate smart cards to integrate your emails with other popular productivity tools like Evernote, MailChimp, Pocket, Todoist, Salesforce, Asana, Trello, OneNote, and Zendesk. CloudMagic for iOS can also seamlessly save your emails to Dropbox, iCloud, Google Drive, and OneDrive—another missing component of the Mac app.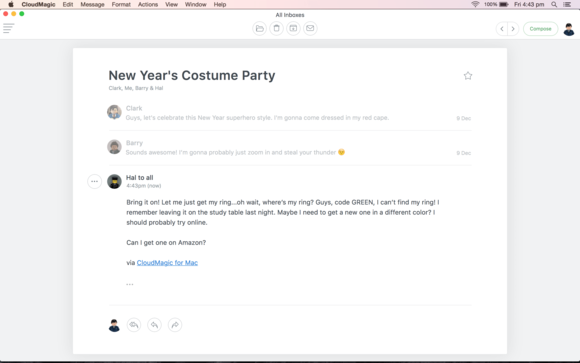 Productivity fiends, don't lose hope. The CloudMagic team told us that they'll be adding these types of integrations very soon. They also have plans to add more, never-before-seen business features to the Mac app.