Google Now on Tap extends its reach to barcodes, translation, and QR codes
Your comparison shopping may soon get a lot easier with all of the new content discovery tools that are on their way.
Google Now on Tap is getting some extra abilites that may come in handy.
The ability to search by barcodes and QR codes is finally here, which is something that feels a bit overdue. This worked in a few cases already, but Google's now making it official and pledges you should be able to scan any QR code to get product information.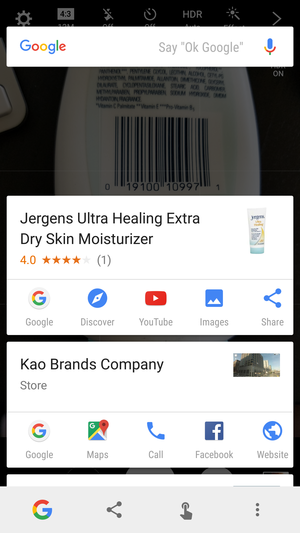 Looking up products is going to be dramatically faster with Now on Tap.
Additionally, Google is highlighting a few new research tools. There's a new Discover button that will find related content from a Google search. The example offered shows more details about recent NASA missions.
If you want to learn more about another topic, just fire up Now on Tap.
A new translation feature is available if the default language is set to English. You can get anything on the screen translated into French, Italian, German, Spanish, Portuguese, and Russian. While translation was built into Chrome, this lets you use it inside of other apps.
The impact on you: Now on Tap has several cool tricks that make your smartphone pretty powerful. The feature is finally becoming more useful in a wider array of situations, which moves it to being an essential Android feature instead of just a novelty.