Google Keep vs. OneNote vs. Evernote: We name the note-app winner
Which note-taking tool stands above the rest? We pit Google's upstart software against the heavyweights from Microsoft and Evernote.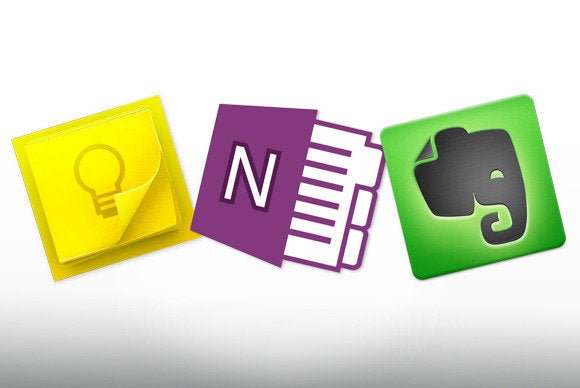 Google shook things up last week when it dusted off its old Notebook service and relaunched it as Keep. Google's new software muscles in on the space currently dominated by Microsoft OneNote and Evernote, two note-taking apps that save your text, Web links, photos, audio recordings, and more, helping to keep your life organized.
Think of these tools as sticky notes on steroids. They're great for managing day-to-day errands and stashing rich media content, but also exceptional for organizing tasks at work.
Whether you're about to start using a note-taking app or are considering defecting from your current choice, you must first think about the features you need most. One app may excel at OCR support and another might be best for anywhere access, while a third may be ideal for content sharing within a team. To help you make an informed decision, here's a closer look at how Google Keep, Microsoft OneNote, and Evernote stack up in a variety of categories.
Pricing
Google Keep is available online and via an Android app. Both iterations are free. OneNote and Evernote have Web and app elements that you can use for free, plus paid premium editions.
OneNote is available as part of a Microsoft Office 365 subscription, starting at $100 per year per home user. It also comes bundled within Office desktop suites starting at $140. As a stand-alone product, OneNote 2013 costs $70. You can use OneNote for free as a Web app through Microsoft SkyDrive, and on Windows Phone, Android, or iOS. The Office version provides additional features, such as the ability to clip screenshots or "print" documents directly to OneNote.
Evernote is free for up to 60MB per month of data. The data cap of the Premium upgrade ($5 per month or $45 per year) jumps to 1GB of bandwidth each month. You also get faster performance, better security, and deeper search capabilities. Evernote for Business gives IT admins oversight and control, with additional collaboration options, for $120 per user per year.
Winner: All three note-taking platforms have free options, so we can't ding any of the contenders for being overpriced. That said, Evernote's paid versions offer greater functionality through apps and add-ons.
Platforms and ecosystems
With a note-taking tool, you want to capture text, voice notes, pictures, and webpages on the go, no matter which device is in your hand. As the newest platform to join the party, Google Keep also has the most limited reach, extending only to the Web and Android.
We've heard no official confirmation, but it's reasonable to expect Google to develop iOS and Windows Phone versions of the Keep app eventually. For now, Keep is best for Google-centric users of Google Drive online storage and productivity tools.