Google is making the same mistake now that Microsoft did in the 90s
Some of the stuff Microsoft pulled in the 1990s was awful, and made users angry; and Google seems to still be making decisions that are more about promoting the greatness of Google than showing respect for users.
In any event, users rebelled, sticking with old versions of Word and Excel for years, or finding alternatives. At some point in the mid-90s I used WriteNow, Nisus Writer and WordPerfect in a search for a better Mac word processor than Word 6. When Office 98 appeared several years later, it did so with a heap of apologetic language from Microsoft and a greater embrace of Mac interface conventions.
Material Design in iOS
As someone in Google's ecosystem as well as Apple's, I'm happy that it continues to develop apps for iOS. Unfortunately, every time I open one of them, I'm brought back to the mid-90s and Word 6.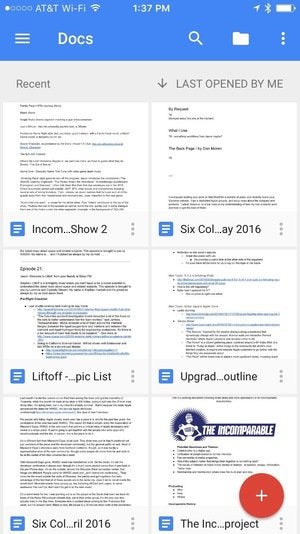 I don't know the reason - arrogance, pride or a lack of desire to do the extra work are all options - but, for a while now, Google has insisted on using the Material Design approach when creating iOS apps. Just as Word 6 inflicted Windows conventions on Mac users, Google's iOS apps inflict Android on iOS users.
Open Google Docs for iOS and you're whisked into a Material Design world. To create a new document, you must tap a large red circle at the bottom right corner of the screen. The options icon is three vertical lines, rather than the three horizontal dots favoured by Apple. Menus display in Material Design style, white cards on a grey background.
A couple of years ago, Google design chief Matias Duarte declared that using non-standard icons on iOS was fine, because it was "part of Google's brand".
I'm not saying either design is superior. If you're on Android, you should expect apps to look like Android apps - Apple Music for Android uses Android's icons for sharing and offering additional options, rather than the ones you'd see on iOS. And the reverse should be true too. (It's not. Google Play Music looks the same on iOS as on Android.)
Right at home
Users choose platforms for various reasons, but once they've chosen a platform, they deserve consistency. Good Mac apps should feel like Mac apps, and good Windows apps should do likewise. If iTunes for Windows feels like a Mac app, Apple's doing it wrong. (One could argue Apple's doing it wrong with iTunes everywhere, of course...) If Apple Music for Android feels like an iOS app, that's a mistake.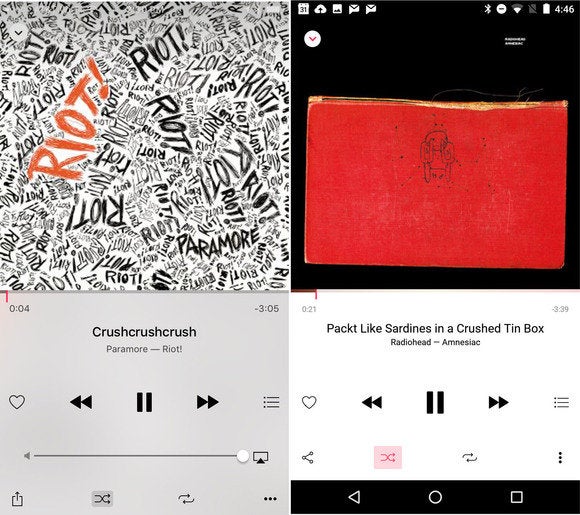 Participating on someone else's operating system means you're on their turf. Resisting the local conventions and importing design from a different operating system is as offensive as an American going to a far-off country and expecting everyone to speak English and accept US cash.