Google Home review: Google puts its A.I. on a nightstand for the win
Yeah, it's just like Amazon Echo—but better in almost every way.
Consider the set-up of Michael Brown, TechHive's executive editor. He has an Echo in one room, and five Echo Dots (essentially baby Echos) strewn throughout his house. Because the Echos support Vivint's smart home platform, Michael can use the six Echo devices to control 31 different Leviton light switches; various Kwikset smart locks; his smart garage door; his Nest thermostat; and his home security system.
His Echos are also linked to a Harmony Elite universal remote for controlling an entertainment system. And remember: All of this is driven by voice control. It's a wonder that Michael ever gets off his couch at all.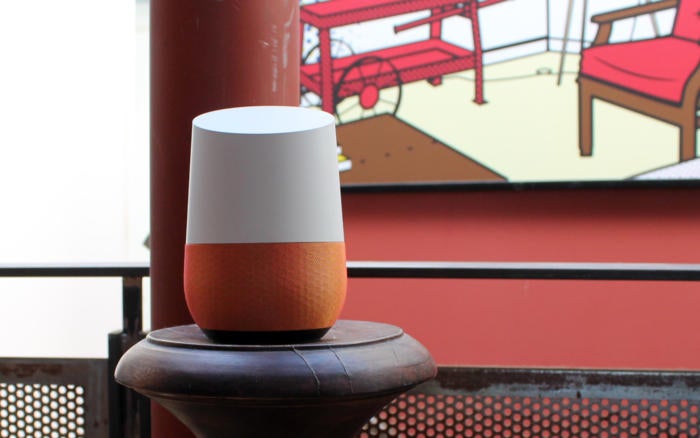 Google Home can remain rather anonymous around strangers—until it starts talking back.
Set-ups like this underscore Google's shortcomings in home control. But they also illustrate a bright future ahead. And, to be sure, I saw glimmers of smart-home excellence during Google Home testing. As I've already shared, Nest thermostat control is excellent. But what I discovered with Chromecast support was downright amazing.
I was watching the Warriors game over my cable box on a Samsung TV. I voiced, "OK Google, play YouTube on Chromecast," and the TV magically switched the input source from my Xfinity DVR to the Chromecast, and kicked into my YouTube account. I almost did a double-take.
Now, I definitely expected reliable voice control once inside Chromecast's YouTube app, but input switching? My Google contact explained that Chromecast and Samsung both support CEC switching, but I had never experienced this technology trick until Google brought it home.
A splendid version one effort
There's still work ahead for the Google Home team. Google needs to support all the smart home platforms that the Echo supports, and Google Home could still learn a few tricks for the devices it does control. For example, Home can instantly switch from my cable box to Chromecast, but it's incapable of switching back.
Google Assistant could also stand to get even smarter. It still can't send text messages or emails, it can't recognize more than a single Google account, and it can't differentiate different users according to their voice patterns.
Still, these are still early days for Google Home, and its fit, finish, and user experience is great for a version one effort. Now it's just incumbent upon Google to maintain forward momentum, and not treat Home as just another hardware experiment. Amazon has already iterated on the Echo twice since it was first released to a broad audience in June 2015. And now with Home making such a grand entrance, we have to expect Amazon price drops, and a spectacular Echo reboot sometime soon.
Well, at least a hardware reboot. There's no way in hell that Google will ever license out Google Assistant.
Previous Page 1 2 3 4 5