Google Home review: Google puts its A.I. on a nightstand for the win
Yeah, it's just like Amazon Echo—but better in almost every way.
But Amazon Echo couldn't deliver the same results in the exact same test scenario. It heard the same "play Katy Perry Teenage Dream" voice prompt over the din of the vacuum, but it couldn't hear my stop command. So I turned the vacuum off, and tried stopping the music again. No dice—the Echo's microphone couldn't even cut through the noise of its own speaker. I finally had to get right above the Echo and scream at it to make the music stop.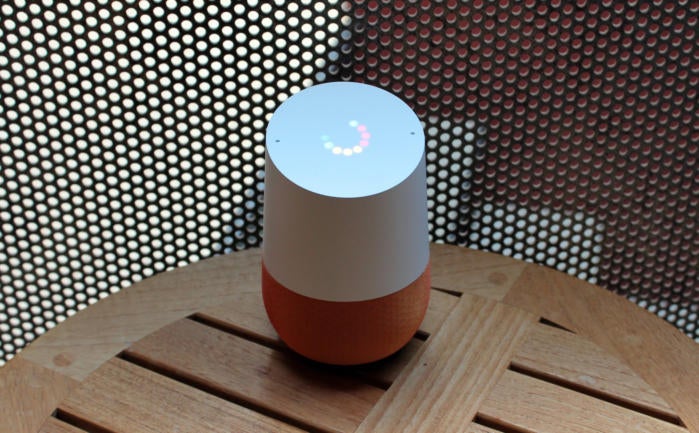 This is how the lights look during start-up. I wish they were even brighter.
Digital Assistance
Google Home is basically a table-top manifestation of Google Assistant, the same AI engine that powers the new Pixel phones. Like on the smartphones, you can ask Google Assistant questions and tell it to do things, whether they concern the world at large, or your personal knowledge graph. I was frequently impressed by Google Home's intelligence, but because Google Assistant sometimes seems so smart, it can be a letdown when it fails to deliver results.
Nonetheless, Google Home usually beat Amazon Echo (which uses Microsoft Bing for search) in terms of basic worldly knowledge.
Using the ever-repetitive "OK Google" prompt, I asked Google Home to tell me the box score for a just-finished Warriors game. It named Golden State's opponent and the final score, but when I asked, "Who was the leading scorer?" it replied, "Sorry I don't know how to help with that." Still, Home's reply was better than nothing, as the Echo couldn't even give me a simple score report.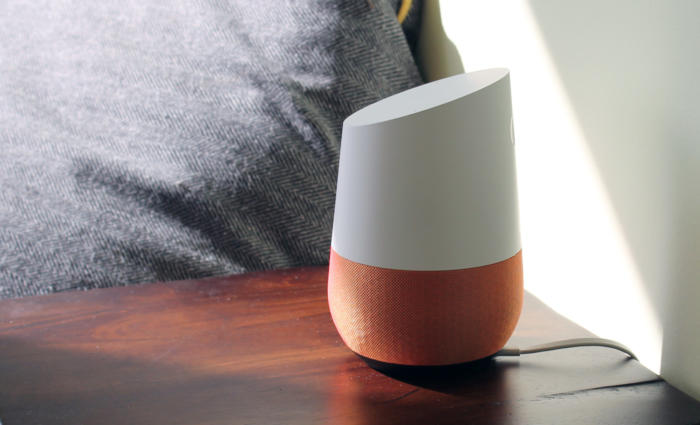 Google Home looks even better in profile.
How about translation? I asked Google Home, "How do you say, 'Where is the nearest coffee shop?' in German?" It replied with a direct translation. Then I asked, "How do you say it in Thai?" Google Home gave me the Thai translation, understanding that I was still asking for translations about coffee reconnaissance. As for the Echo, it replied, "Hmm, I don't know" to the German query, and then pointed me to Bing search.
As Google vividly demonstrated when it revealed Google Home in October, you can ask, "OK Google, tell me about my day," and you'll get a personalized audio report on your local weather, your commute to work, your next calendar commitment, and pending reminders. It's nice to wake up and get all this information in a flash, but if you have your phone on your bed table, it will spring to life, jump into Google Assistant, and silently reply "Answering on another device." This behavior happens every time you query "OK Google" with both Home and your phone in the same room. And it's annoying.
Previous Page 1 2 3 4 5 Next Page