Google Home review: Google puts its A.I. on a nightstand for the win
Yeah, it's just like Amazon Echo—but better in almost every way.
We all have different aesthetics, but I have to give the style nod to Google Home.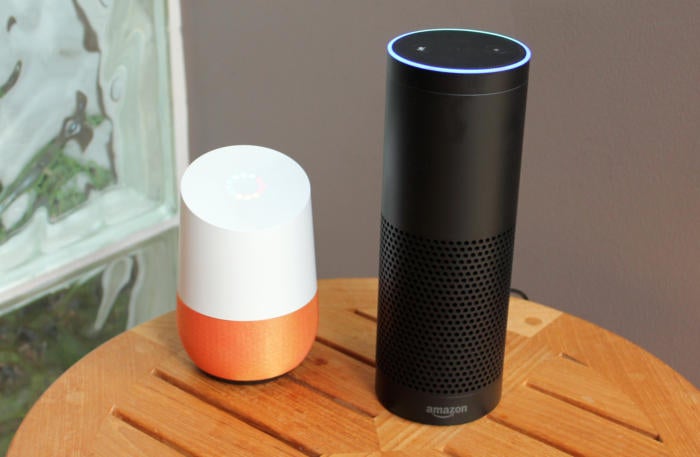 It's impossible to avoid comparisons between Google Home and Amazon Echo. Their mission statements are almost identical.
Audio quality
If you're looking for a wireless system that can fill an entire home with spectacular sound, you should buy a battery of Sonos speakers. But if you just want to fill a single room with perfectly respectable sound, Google Home's 2-inch driver and dual 2-inch radiators should suffice.
Or to put it another way: If you need a soundtrack for your dinner party, and want to change artists and songs on the fly with voice commands, Google Home is the perfect choice. It doesn't get nearly as loud as Amazon Echo, but it does deliver richer audio. Its highs, mids, and lows simply sound more balanced, whereas the Echo sounds a bit thin and over-digitized. Home also sounds clean when its volume is set to 10, whereas the Echo distorts horribly at its highest volume levels.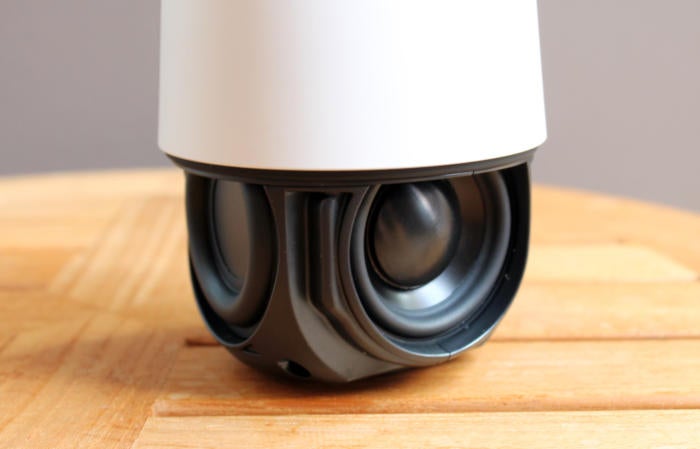 Google Home doesn't get as loud as Amazon Echo—but it delivers richer sound, and it doesn't distort at high volumes.
For music playback, Google Home currently supports Google Play Music, YouTube Music, Spotify, and Pandora. TuneIn, meanwhile, handles live streaming radio and podcast content. Summoning specific artists, music tracks, radio stations and talk shows is a simple matter of voicing an "OK Google" command.
Microphone performance
Both Home and Echo feature far-field microphones that pick up voice commands under challenging conditions. Google goes with dual mics, but Amazon has an array of seven. Apparently sheer firepower can't win this battle, because while Amazon's mic performance is impressive, Google's implementation is stunning.
Witness: I put both hardware assistants in the sun room in the very back of my house. I then left the sun room, walked through an adjoining bedroom, and headed down a hallway to the living room. It's a serpentine journey with a bunch of walls and open doors in between. Using my normal, non-shouty indoor voice, both Google Home and Amazon Echo could hear my voice commands from various points in the hallway—but Google Home's microphone range was about 10 feet longer. It became vividly clear that the Echo couldn't hear me unless I was closer to the nearest open door.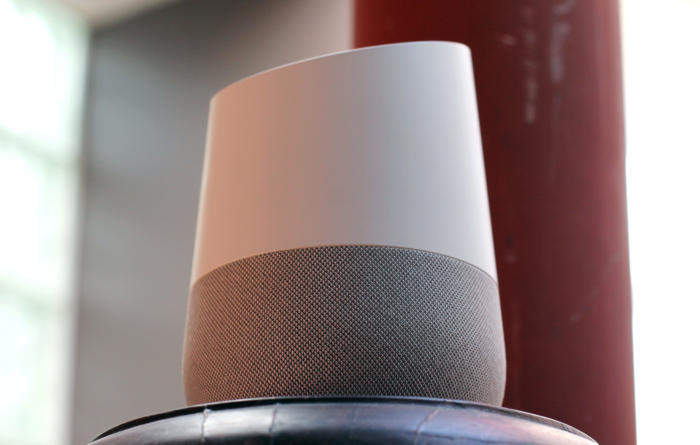 Depending on your angle of approach, Google Home assumes different shapes.
The next experiment was even more telling. With a Dyson vacuum cleaner going full-blast in the sun room, I prompted Google Home to play a music track. Its microphone heard my command, and started playing the track—this with the vacuum blaring just inches away. I next turned Google Home's speaker to its maximum setting, and voiced a stop music command. The microphones picked up the prompt and stopped the music. I was duly impressed: Neither the vacuum cleaner nor Home's speaker playing at full volume could overpower Google's microphones.
Previous Page 1 2 3 4 5 Next Page