Future points to healthcare IT as a service
Adopting social, mobile, analytics and cloud technology should save healthcare providers money in the long run. It should also help them use their EHR systems as a service, according to a joint report from EMC and MeriTalk.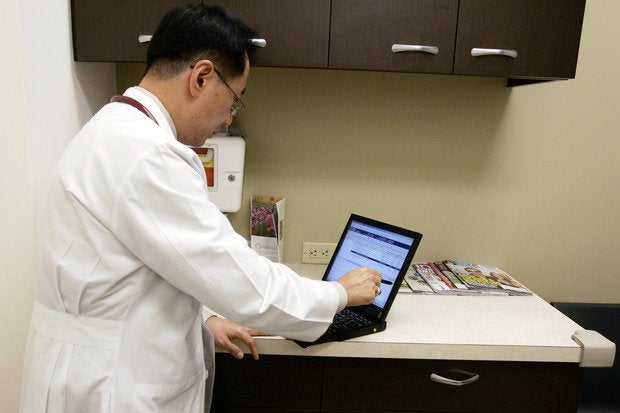 Credit: Reuters
IT leaders today frequently mention the importance of bringing social, mobile, analytics and cloud technology -- the so-called "SMAC stack" -- into a single, integrated architecture.
In healthcare, this type of architecture will do more than simply help the industry catch up to other verticals, says David Dimond, CTO of EMC's Global Healthcare Business. SMAC will help organizations demonstrate a return on investment in electronic health record (EHR) systems beyond meaningful use by providing IT as a service both within and outside hospital walls.
SMAC Enables Healthcare IT as a Service
A recent MeriTalk report, sponsored by EMC, suggests that healthcare providers see the value of the SMAC stack. (EMC refers to the collective technologies as enabling "FutureCare." Analyst firm IDC, meanwhile, calls it the third platform, the successor to the mainframe and client-server platforms.)
Of the 151 hospital decision makers surveyed, more than half use at least one of the legs supporting the third platform to run their EHR system.
Healthcare cloud use is most prevalent, at 67 percent. The bulk of this is private cloud, though cloud EHR is popular among ambulatory providers.
Common analytics use cases include reducing readmissions (50 percent) and risk analysis (46 percent).
Providers use mobile health to view patient information (57 percent), receive clinical notifications (46 percent) and fill electronic prescriptions (41 percent).
Finally, social technology helps improve communication among physicians (54 percent) and with patients (52 percent).
Dimond sees each type of technology supporting a different step in population health management. The cloud gives access, big data provides identification, mobility enables physician and patient engagement, and social technology triggers what Dimond describes as "perpetual activation." If healthcare CIOs think of their EHR systems in this way, as providing IT as a service, they will be able to demonstrate ROI beyond simply meeting meaningful use, he adds.
Challenges -- But Also Unexpected Opportunities
That said, there's work to be done. Only 4 percent of those surveyed say their existing IT infrastructure can support the "evolution of the EHR" as Dimond, EMC and MeriTalk describe it. Getting there requires an investment in SMAC technology, to be sure, as well as spending on security, application performance and data backup and recovery infrastructure.
While IT budgets always face scrutiny, Dimond says Washington's specific emphasis on healthcare IT -- meaningful use, the accountable care organization and population health management -- means the industry's CIOs command attention. What's more, MeriTalk estimates healthcare's ROI on SMAC technologies to exceed $22 billion in 2016 alone -- not far from the $26 billion in meaningful use incentives awarded since July 2011.