Free data visualization with Microsoft Power BI: Your step-by-step guide
We'll show you how to analyze a file with more than two million records of U.S. airline flight delays in this hands-on tutorial with video.
Check the Formula bar under the View ribbon in order to see underlying M language scripts.
Instead, go to View > Advanced Editor and you'll see all your steps as a script. Edit the Table.ReorderColumns line to put Airline when you want it, and click Done. Your Airline column should have moved.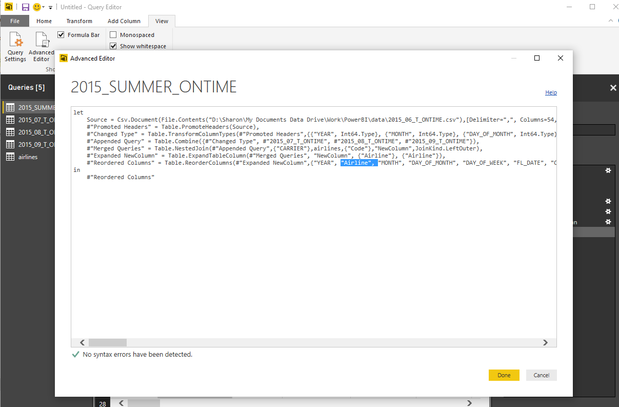 Edit the Table.ReorderColumns line to put Airline when you want it.
There are a number of other operations available on the Transform menu as well, such as grouping values by one or more columns, splitting columns based on a separator or specific number of characters, and pivoting (similar to creating Excel pivot tables) or unpivoting (moving multiple columns of data into two columns: variable data, such as "Month" and value data, such as "June").
You can also do some basic statistical exploration using options on the Transform ribbon, such as counting rows or creating summary stats like count, average, median and standard deviation. When you perform a data summary, a table with the new summarized values will appear in place of your original data table. To get the view of your original data back, go to the Applied Steps column to the right of your data table and delete the summarizing function.
In fact, you can use Applied Steps to delete any step you've taken here, not just the most recent, which is rather handy. Unfortunately, there's not also an Undo after deleting a step in the Query Editor, so you can't bring something back that you've erased.
Select the Count Rows menu option on the Transform ribbon to see the number of rows; if you're using flight-delay files downloaded from Computerworld, you'll see there are slightly over two million rows -- more than you could pull into Excel and its limit of 1,048,576 rows. Delete the Count Rows step to return to the full data.
Right now there are over 50 columns in the summer flight-delay table. To make things more manageable, select just a few that you might want to use in some data visualizations: MONTH, FL_DATE, Airline, FL_NUM, ORIGIN, ORIGIN_CITY_NAME, DEST, DEST_CITY_NAME, CRS_DEP_TIME, DEP_DELAY, ARR_DELAY, CANCELLED, CARRIER_DELAY, WEATHER_DELAY, NAS_DELAY, SECURITY_DELAY, LATE_AIRCRAFT_DELAY.
Click the Choose Columns button on the Home ribbon, deselect Select All Columns and then check the boxes next to the columns you want to keep and click OK.
If you later decide you want to add back any column, you can return to the Query Editor by clicking Edit Queries and then click the settings gear next to Removed Other Columns in the Applied Steps column. That brings the dialog box back up with your prior selections, and you can add more columns to your project.
Previous Page 1 2 3 4 5 6 7 8 9 10 11 12 13 14 15 16 17 18 19 Next Page