Free data visualization with Microsoft Power BI: Your step-by-step guide
We'll show you how to analyze a file with more than two million records of U.S. airline flight delays in this hands-on tutorial with video.
Make sure that the number columns are loading in as numeric -- in other words, aligned to the right.
Once in the Query Editor, you can right-click on a column header and select "Change Type" in order to manually select a data type such as whole number, decimal number, date, date/time, etc. But there's plenty more we can do with this data besides checking column types.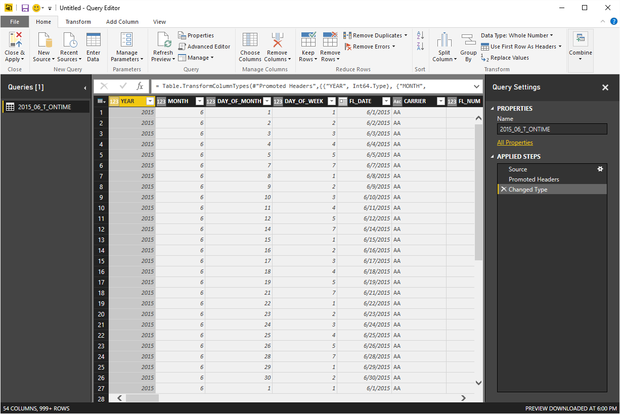 Once in the Query Editor, you can start tweaking your data.
Note: If you're not interested in data wrangling and want to get started with charts and graphs, load the summer15delays.csv file instead and skip ahead to the Easy visualizations section -- but do make sure that the flight number is changed from numeric to text when you import the file.
Power BI Desktop vs Cloud Service
It can be confusing for beginners to understand when to use Power BI's desktop software and when to use the Power BI cloud service, since they do some but not all of the same things.
To begin with, the desktop application runs only on Windows. The cloud service is multi-platform, running on Microsoft Edge, Internet Explorer, Chrome, Safari for Mac and Firefox. In addition, mobile apps are available for iOS, Android and Windows 10 for viewing your reports and dashboards.
The desktop app is designed for authoring. It's where you can do data modeling, merging different data sources and so on as well as visualization.
The Power BI cloud service is for sharing and creating dashboards. It's also where you can access features like natural-language questions ("Hey Cortana...."). Cortana natural-language technology is getting baked into Power BI cloud. You can build visualizations and reports in the service, too, but you can wrangle data only in the desktop app.
Here's a bit more detail:
If you need to massage your data for analysis -- combine data sources, add or delete columns, or reshape tables -- you'll want to use the desktop software, since it's the only option for data modeling.
Both the desktop software and the cloud service do basic data visualizations and reports. I asked Microsoft about the difference; a rep told me via email in May: "For simple data visualization and exploration Power BI Desktop and the Power BI Service offer similar capabilities, but you'll encounter some differences. For example, R visuals aren't available in the service yet, but are planned for later this summer." (Update: R visuals were added to the cloud service in early July; a paid Pro account is needed to use them.)
To create dashboards -- visual summaries of data from one or more different sources -- and ask natural-language questions about data on those dashboards, you need the Power BI cloud service.
To get some rudimentary automated analysis (Quick Insights) from your data, you need the cloud service.
To share your analysis with others, you need the cloud service.
Some online data sources, such as Adobe Analytics, require using the cloud service.
Previous Page 1 2 3 4 5 6 7 8 9 10 11 12 13 14 15 16 17 18 19 Next Page